Scipts and links for upcoming auditions 
The scripts and monologues for the Winter One Acts can be found on
GauchoSpace
. Please note that the scripts cannot be downloaded nor printed.  Please do not share these script with anyone. 
Winter One-Acts
PERFORMANCES:          February 7th - 10th
                                         Studio Theater (TD-W 1101)
GENERAL                        Tuesday, January 8th 
AUDITIONS:                    6pm - 8pm
                                        Studio Theater (TD-E 1101)
CALLBACKS:                  Wednesday, January 9th
                                        6pm – 11pm
                                        Studio Theater (TD-E 1101)
REHEARSALS:
The directors will schedule rehearsals after casting is complete.  Rehearsals are typically held weekday evenings between the hours of 6 and 10pm.  Some weekends may be required as well.
SCRIPTS:
AUDITION REQUIREMENTS:
Any full-time UCSB student is welcome and encouraged to audition. The audition sign-up list will be posted inside the Production Office (TD-W 1600) on January 7th. Please sign up for a 3-minute audition slot and arrive ten minutes prior to your appointment to fill out audition forms. Please be prepared to stay longer than your allotted 3-minute slot if necessary.
AUDITION PREPARATION:
Please prepare any ONE of the provided speeches from the one act plays OR a monologue of your own choosing. One minute in length, suggested.
If you have questions or need more information contact 
THE PLAYS:
THE WAY OF ALL FISH
by Elaine May 
Directed by Katherine Hamilton 
Character Breakdown: 
Ms. Asquith - Late 30's/early 40's. The head of her own successful company, very rich and entitled. Posh, pretentious, very intelligent and somewhat manipulative. Puts her work above all else in her life.  
Miss Riverton - 20-30's. Physically fit and strong. Well intentioned and hard working but clumsy and somewhat lacking in social awareness. 
Synopsis: A casual office dinner turns awry after an uptight CEO learns that her imperfect secretary may have a vendetta against her life. 
About the Playwright: Elaine May is an American screenwriter, film director, actress, and comedienne.  She was part of one of the most successful American comedy teams alongside Mike Nichols. As a comic, writer, and director, May is distinguished by the intellectual sophistication of her satire and the independence and artistic integrity of her work.
Additional Information: British dialect preferred for the role of Ms. Asquith. A strong physicality or presence preferred for Miss Riverton. 
The Thread Men
By: Thomas Dunn
Directed By: Stefan James
Synopsis: When a psychiatrist becomes trapped in an elevator with a man acting bizarrely, he quickly learns that his decisions may have life or death consequences.
About the author: Thomas C. Dunn is a Los Angeles based writer and director. As a playwright, his one-act, "The Thread Men", was the winner of Samuel French's prestigious OOB Short Play Festival. He is also is a writer and director for film.
Character Breakdown:     2 Characters
Addelin Lewis: Male. Mid-20's. Elusive. Furtive.
John Collins: Male. Older. Psychiatrist. By the books.
Additional Notes: Actors are encouraged to play older, especially for the role of John. Both characters  require an intensity, and Addelin carries a low level of electricity in his movements and demeanor.
Auto Erotic Misadventure 
By: F. J. Hartland
Directed by: Nicole Zahner
Brandon (a male escort), Cliff (a moralistic homosexual), and Norma (a secretary with a domineering mother) share a townhouse in Washington D. C. Loneliness and fear draw them together, then self-centeredness and mistrust tear them apart. Months later, when each has a new life in a new location, their versions of their former relationships with each other are disclosed. 
Brandon – a male escort who may be getting a little past his prime. He is 29 years old and feels his current career is his only option in life. He can be antagonizing at times, but his bitterness seems to come from a place of pain or loss, as opposed to anger or hatred.
Cliff – a male waiter with a bland set of hobbies. He is in his late 20's and when he is not working at a restaurant in D.C., he can be found doing macrame and wood staining. He looks down on Brandon's "work" due to his "strict" sense of morality, but is quick to deviate if Brandon shows romantic interest.  
Norma – a female secretary who is unhappy with her romantic life. She is in her late 20's and she frequents bars on the weekends in search of the perfect man. However, her insecurities about herself continue to affect her relationships in negative and toxic ways. 
The Other Room
Written by Ariadne Blayde
Directed by Billie Stouter
Character Breakdown:
2 Males, 1 Female, 4 Either
Austin (m), 16 years old, an incredibly bright teenager with a love for physics and astronomy. He has fairly severe autism. He may speak with a slight monotone or have physical ticks.
Lily (f), 16 years old, a popular high school girl. Pretty, friendly, and genuine, but secretly a little nerdy
Travis (m), 16 Lily's tough boyfriend. Athletic. (comes in at the end)
Donovan (m or f), middle aged, an unkempt professor. Intelligent, crass, and a bit over the top. Part of Austin's mind
Talbot (m or f), late 20's or early 30s, a clean cut, intensely straightforward aircraft pilot. Part of Austin's mind.
Nick (m or f), an outgoing, friendly, streetwise kid. Part of Austin's mind.
Christian (m or f), 20's, a reserved neatly dressed student. Part of Austin's mind.
The Other Room tells the story of 16-year-old Austin, a kind and bright young man with autism. When Lily, a pretty girl in his class, accidentally interrupts him studying after school, Austin and Lily both struggle with how to communicate with someone who doesn't think the same way they do. Austin's mind, personified by four distinct characters who live in "the other room",  help to illustrate the inner workings of autism as Austin overcomes his fear of social interaction. This touching story explores the ways in which we communicate with each other and how we approach those who may view the world differently.
*Note: the four characters that personify Austin's mind and live in 'the other room' are not in anyway to represent schizophrenia or to insinuate that he has multiple personalities. They are there to personify Austin's thoughts in an abstract sense*
About the Playwright: Ariadne Blayde is currently pursuing her undergraduate degree in Playwriting at Fordham University, where she has written and produced several one-act plays. In fall 2008 she won the VSA Playwright Discovery Award for her play The Other Room, which had its world-premiere at the Kennedy Center in Washington, DC. She also writes academically and is featured in the volume True Blood and Philosophy, part of the hit Pop Culture and Philosophy series published by Blackwell-Wiley. Ms. Blayde is also trained in acting and directing and studied for four years at Interlochen Arts Academy, the nation's premier boarding high school for the arts. (Taken from SamuelFrench.com)
The Coyote Stratagem
By G. Flores
Directed by Riya Sahasrabudhe
Character Breakdown:
AARON - a man in his late 30s. Sensitive, stubborn, childish, caring, and very recent ex-boyfriend of Viki.
VICKI - a woman in her early 30s. Strong willed, realistic, grounded, loving, and very recent ex-girlfriend of Aaron.
Synopsis: Vicki has ended her five year relationship with Aaron and is moving out of their shared home. Aaron is upset by this and decides to shield himself from any more heartbreak by setting up camp in the garage and drawing several boundaries around himself using sidewalk chalk. This play takes us through the moment right after heartbreak as Vicki and Aaron negotiate through tangible and intangible boundaries, using what they know about each other as their way in as well as sometimes their ways to keep each other out.
About the Playwright: Guadalupe Flores is currently the Assistant Director of Admissions at Cornell College. He has numerous accolades to his name in in playwriting and is an accomplished journalistic writer as well.
Additional Info: Although the characters are in their 30s, the casting will be fairly age-flexible.
DANCE AND THEATER MAJORS ONLY.
Reserve rooms from anywhere you have an internet connection. Don't see the room you're looking for? Scroll to the right! 
Not a major? Be sure to get written approval from Daniel Herrera (daniel12@ucsb.edu) prior to booking a room.
Please only reserve one hour per day per project.
If you no longer need a reservation, please delete it so it can be used by your colleagues.
Leave your contact information in the event of an emergency.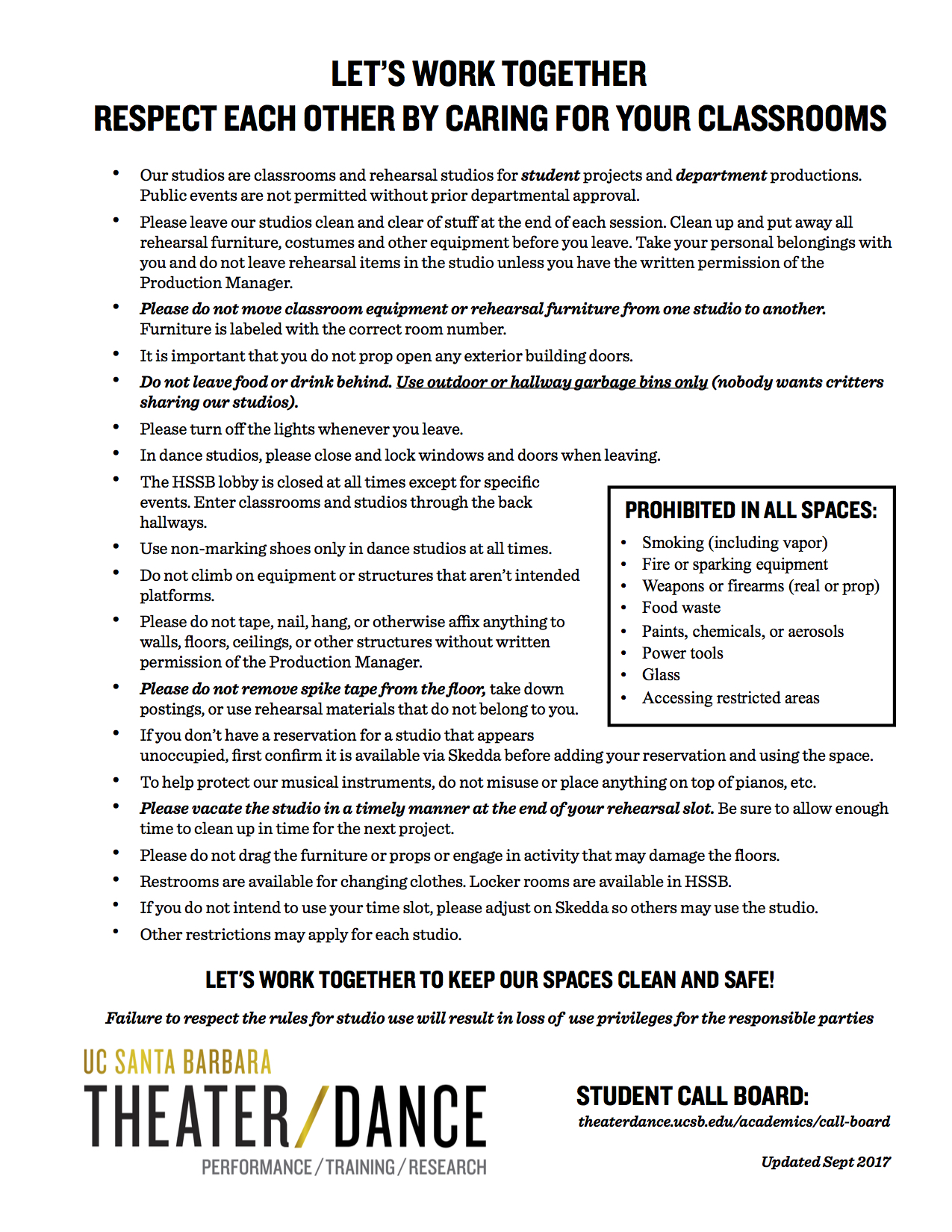 Looking to book a room further out than a week or on a re-occuring basis? Email dherrera@theaterdance.ucsb.edu.
Thank you to everyone who applied for this quarter's productions. Information on Winter Quarter will be posted in January.
POSITIONS AVAILABLE (DEPENDS ON THE PRODUCTION)
Light Board Operator
Sound Board Operator
Fly Crew
Deck/Props Crew
Followspot Operator
Wardrobe/Makeup Crew
HOW TO APPLY FOR RUN OR WARDROBE CREW:
Review the show calendars and course requirements to find a production that fits your schedule.
Email the Technical Director Jamie Birkett jbirkett@ucsb.edu if you are interested in any of the positions other than Wardrobe/Makeup Crew.  For Wardrobe/Makeup Crew, email the costume shop manager Denise Umland at denise.umland@ucsb.edu
We will schedule an appointment via email to give you to discuss and to potentially assign your add code.
IMPORTANT NOTES:
All crew positions are first-come, first-served. We will respond to emails in order that they are recieved on the day the positions are officially posted online.
All events listed on the calendars are required. It is not possible to partially participate in a production.
There are no opportunities to make up for an unexcused absence or lateness.
CALENDARS:
COURSE REQUIREMENTS:
Full Course Requirements (.pdf)
CONTACTS:
Want to be more involved with the Department? Want to see shows for free? Volunteer to be an usher for one of our shows!
WHAT: As an usher for the department's productions, you will be asked to hand out programs before the show, direct audience members to facilities during intermission, and organize the venue after the performance.
WHEN: Ushers should arrive 45 minutes PRIOR to curtain at the VENUE of the performance and check in with the house manager for instructions and a brief training session.
WEAR: Please arrive dressed tastefully in ALL BLACK.
WHY: For ushering, students may see the performance at no charge. It is possible (though not likely) that ushers will be asked to attend another performance if seating is very limited.
HOW: Use the buttons below to to sign up! You will be asked to enter your email address so that we can send you a reminder. Be advised that sign ups are on a first come, first served basis.
SIGN - UPS
Email Sean at sposh@ucsb.edu with your UMail address and the subject "Please add me to the Mailing List." The Mailing List will have the latest information regarding department events such as auditions, run/wardrobe crew, and special events.
Props/Furniture Rental Guidelines
Props and furniture are available for rental to the following:
Students currently enrolled in a class within the department
Recognized UCSB student organizations with a faculty advisor
Declared Majors/Minors within the department
Others as determined by the Technical Director
Rentals are available by appointment only. To make an appointment email Jaime Birkett jbirkett@ucsb.edu. A $50 deposit check is required for all rentals.
Prop Shop Rental Hours:
Tuesdays 10:00-11:30am
Fridays 10:00-11:30am
Props/Furniture Rental Guidelines