Scipts and links for upcoming auditions 
The scripts for
World of Extreme Happiness
and
Staging the Daffy Dame
can be found on
GauchoSpace
. Please note that the scripts cannot be downloaded nor printed.  Please do not share this script with anyone.  Thank you.
The World of Extreme Happiness
By Frances Ya-Chu Cowhig
Directed by Daniel Stein
PERFORMANCE DATES:
February 16-25, 2018 
PERFORMING ARTS THEATER 
GENERAL AUDITIONS:
Sunday, November 19th
3pm-9pm
TD-W 1507
CALLBACKS: 
Tuesday, November 21nd  
5pm – 11pm
TD-W 1507
Note: 
Callback information and Cast Lists will be posted in the Production Office.
1st REHEARSAL:
Monday, January 8th
REHEARSALS: 
Typically 20-25 hours per week until tech rehearsals begin.  This play will rehearse Monday – Friday between the hours of 6-11 until tech week. There will be some Friday afternoon rehearsals and occasional Saturday.  There are additional hours for techs and dress rehearsals leading to performances including a Saturday.
CREDIT: 
3 units of THTR 49 and/or 149 will be given to cast members.
SCRIPTS: 
The current draft of the script is now available on
GauchoSpace
. 
AUDITION REQUIREMENTS: 
Any full time UCSB student is welcome and encouraged to audition.  The audition sign-up list will be posted in the Production Office (TD-W 1600) starting on November 6th. 
AUDITION INFORMATION: 
PLEASE READ THE PLAY BEFORE YOU AUDITION!
Character Roles: Please prepare a scene from the play with a partner of your choosing.  You may do this with someone who also wants to audition or simply with a friend.  If the scene is very short please prepare a second one that you may or may not be asked to present.
Ensemble Roles: Please take any scene from the play and create a 90 second movement piece using the scene as your prompt.  You will simply tell us what the scene is and do your piece.
THE PLAY: 
Unwanted from the moment she's born, Sunny is determined to escape her life in rural China and forge a new identity in the city. As naïve as she is ambitious, Sunny views her new job in a grueling factory as a stepping stone to untold opportunities. When fate casts her as a company spokeswoman at a sham PR event, Sunny's bright outlook starts to unravel in a series of harrowing and darkly comic events, as she begins to question a system enriching itself by destroying its own people.
THE UCSB PRODUCTION TEAM:
Playwright:
Frances Ya-Chu Cowhig
Scenic Designer:
Greg Mitchell
Costume Designer:
Jen LaMastra
Lighting Designer:
Vickie Scott
Stage Manager:
Johnathan Garza
CHARACTER ROLES: 
Open call. 
Priority consideration given to actors of Asian heritage/ancestry. 
SUNNY, 18-20.  Female. Migrant factory worker.
PETE, 16-18.  Male. Sunny's brother.
Also plays: RAN FENG, 20-36. Coal miner
LI HAN, 25-45. Male. Sunny's father. Coal miner.
Also plays: JAMES LIN, 51. Factory owner
OLD LAO. 65. Male. Head of Sanitation at Shenzhen Factory.
Also plays: GAO CHEN, 50. Public Security Officer.
MR. DESTINY. 60.  Self-help guru.
This role may be cast individually or grouped with OLD LAO
ARTEMIS CHANG, 52. Female. Vice President of Price-Smart China.
Also plays:  WANG HUA, 40-60. Midwife turned fix-it woman.
QING SHU MIN, 26, Female. Police officer.
Also plays: XIAO LI, 50. Sunny and Pet's mother.
MING-MING, 23.  Female. Factory worker
This role may be cast individually or grouped with QING SHU MIN
ENSEMBLE ROLES: 
Open call. 
This will be an ensemble of 6-8 People.  These actors will be integral to both the creation of the set as well as the over all vibe of the play.  In no way are these 'minor' roles, and it should be noted that they are a creation for this particular production.  
OTHER REQUIREMENTS: 
The ensemble should expect to be at most rehearsals.
Reserve rooms from anywhere you have an internet connection. Don't see the room you're looking for? Scroll to the right!
Please only reserve one hour per day per project.
If you no longer need a reservation, please delete it so it can be used by your colleagues.
Leave your contact information in the event of an emergency.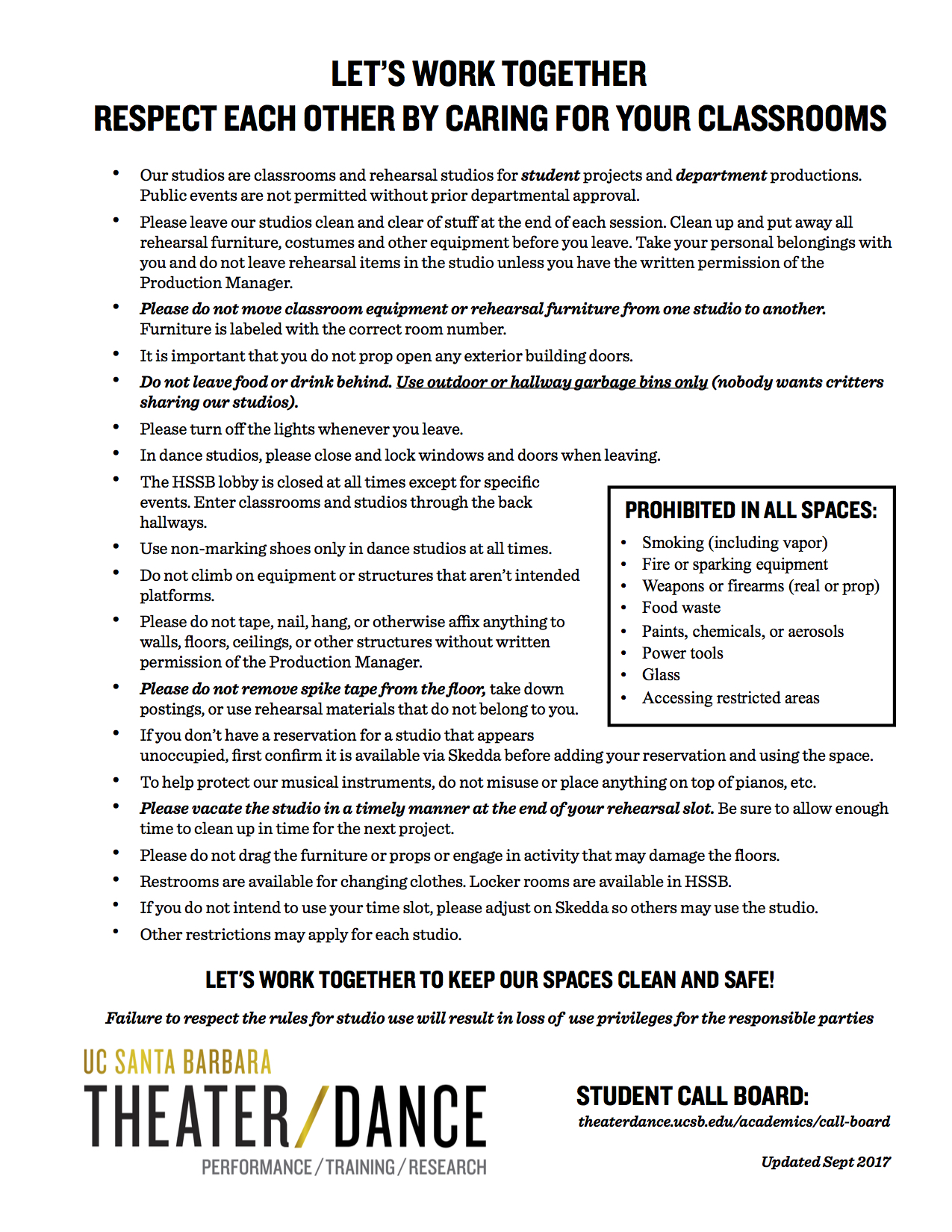 Looking to book a room further out than a week or on a re-occuring basis? Email dherrera@theaterdance.ucsb.edu.
POSITIONS AVAILABLE (DEPENDS ON THE PRODUCTION)
Light Board Operator
Sound Board Operator
Fly Crew
Deck/Props Crew
Followspot Operator
Wardrobe/Makeup Crew
HOW TO APPLY FOR RUN OR WARDROBE CREW:
Review the show calendars and course requirements to find a production that fits your schedule.
Take the application quiz for that production (via Gauchospace).
We will schedule an appointment via email to give you your add code.
IMPORTANT NOTES:
All crew positions are first-come, first-served. We will respond to applications in the order they are completed.
All events listed on the calendars are required. It is not possible to partially participate in a production.
There are no opportunities to make up for an unexcused absence or lateness.
CALENDARS: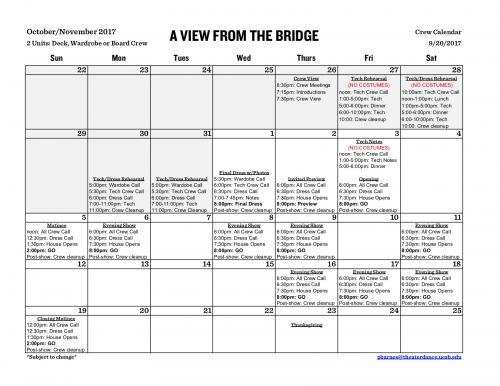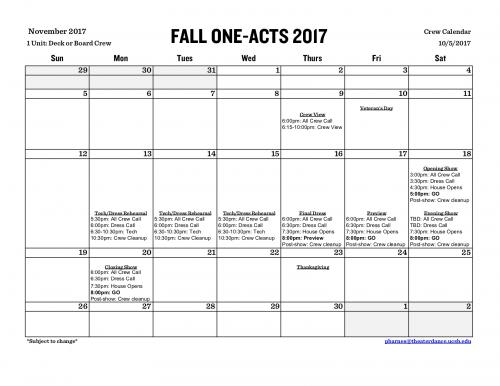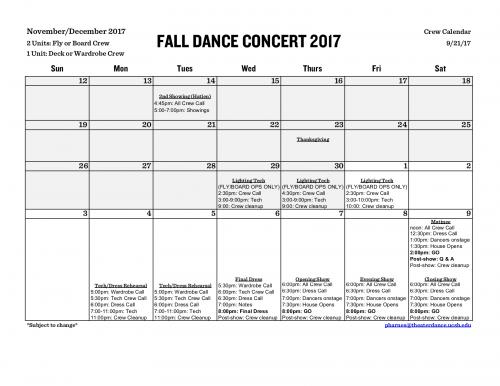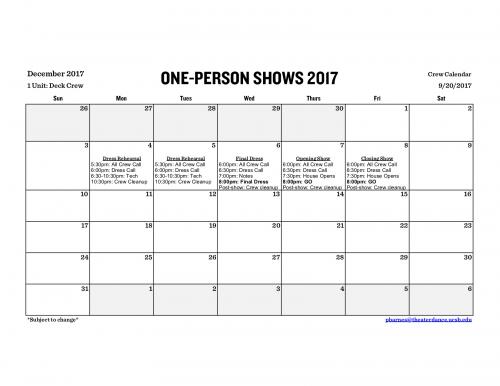 COURSE REQUIREMENTS:
Full Course Requirements (.pdf)
CONTACTS:
Want to be more involved with the Department? Want to see shows for free? Volunteer to be an usher for one of our shows!
WHAT: As an usher for the department's productions, you will be asked to hand out programs before the show, direct audience members to facilities during intermission, and organize the venue after the performance.
WHEN: Ushers should arrive 45 minutes PRIOR to curtain at the VENUE of the performance and check in with the house manager for instructions and a brief training session.
WEAR: Please arrive dressed tastefully in ALL BLACK.
WHY: For ushering, students may see the performance at no charge. It is possible (though not likely) that ushers will be asked to attend another performance if seating is very limited.
HOW: Use the buttons below to to sign up! You will be asked to enter your email address so that we can send you a reminder. Be advised that sign ups are on a first come, first served basis.
SIGN - UPS
Email Sean at sposh@ucsb.edu with your UMail address and the subject "Please add me to the Mailing List." The Mailing List will have the latest information regarding department events such as auditions, run/wardrobe crew, and special events.
Props/Furniture Rental Guidelines
Props and furniture are available for rental to the following:
Students currently enrolled in a class within the department
Recognized UCSB student organizations with a faculty advisor
Declared Majors/Minors within the department
Others as determined by the Technical Director
Rentals are available by appointment only. A $50 deposit check is required for all rentals.
Prop Shop Rental Hours:
Tuesdays 10:00-11:30am
Fridays 10:00-11:30am
Props/Furniture Rental Guidelines