Santa Barbara Dance Theater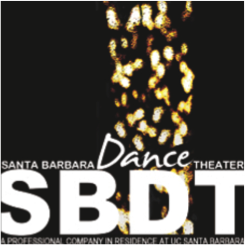 Founded in 1976, SBDT holds a unique position as a resident professional dance company at UCSB, a world-class research institution. An integral component of the Department of Theater and Dance, the company celebrates its 43th Anniversary Season with performances January 11 – 20, 2018 at the Hatlen Theater.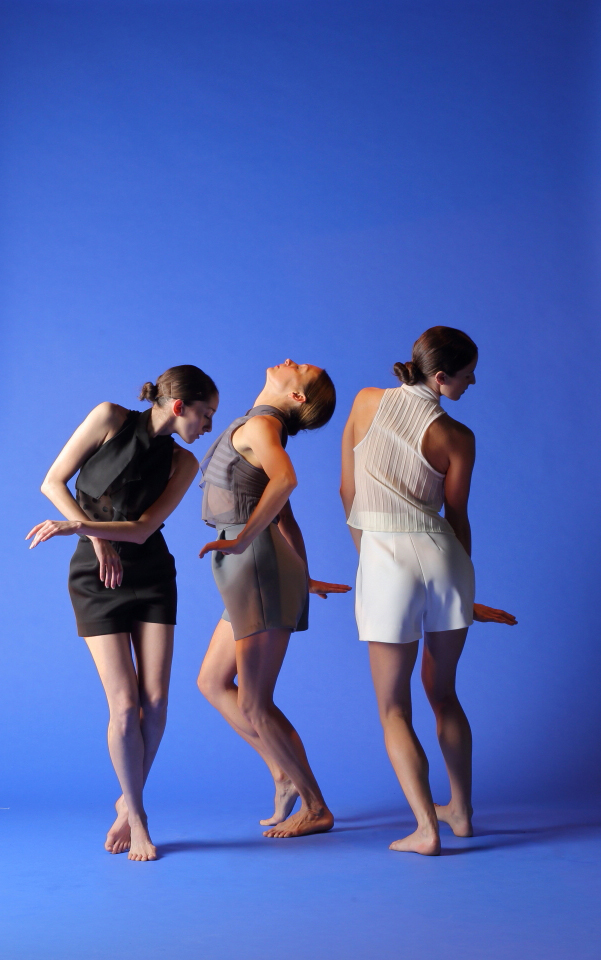 Photo: © Phil Channing, 2018
Santa Barbara Dance Theater presents its winter 2019 season with five performances of (Princess Grace Award recipient) Josh Manculich's The Grey Area, pictured above, and Monologue; Yusha-Marie Sorzano's To All Our Ends and artistic director Christopher Pilafian's newest work. January 11-20, 2019, Hatlen Theater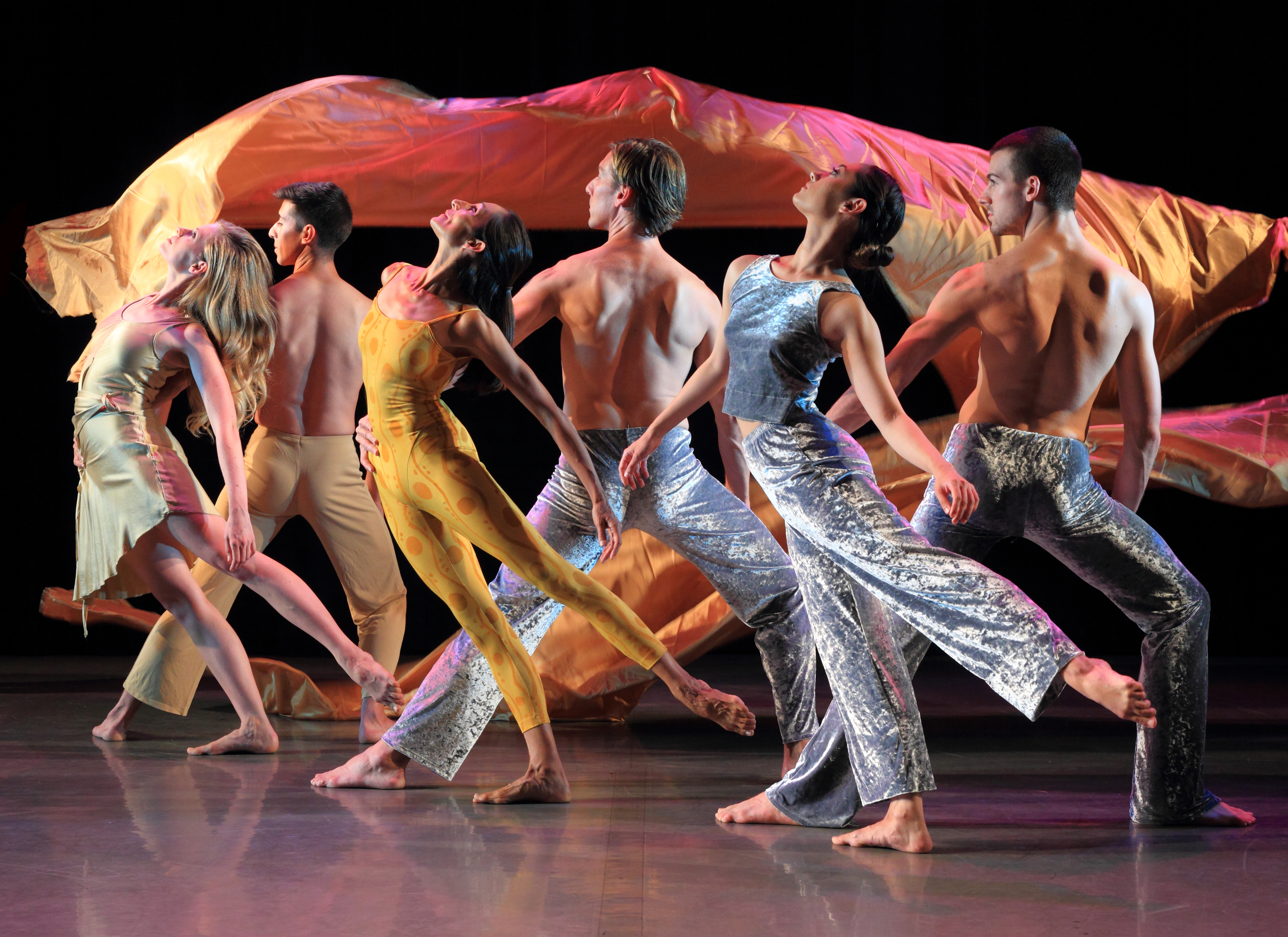 Photo: © Phil Channing, 2015
2018 - 2019 Performances
FALL 2018
Showcase at MiMoDa Studio 
Los Angeles
December 14, 2018 at 8pm
WINTER 2019
Distance and Desire
Hatlen Theater
January 11, 12, 18, 19, 2019 at 8pm
January 20, 2019 at 2pm
*Made possible by the Arnhold Endowed Theater and Dance Production Fund
SPRING 2019
SBDT returns to the Lobero
The Historic Lobero Theatre
May 7 and 8, 2019 at 8pm
Watch for details of a special matinee.
Tickets go on sale soon.
About Santa Barbara Dance Theater
Santa Barbara Dance Theater, directed by Christopher Pilafian, is the professional contemporary dance company in residence in the Department of Theater and Dance. The company presents an annual season at the Hatlen Theater and has the distinction of being the longest continually operational contemporary dance company in the Santa Barbara area. A keystone performing arts organization in our community, SBDT has provided innovative and inspiring performances for thousands of audience members throughout California and on tour internationally for over thirty years, including extensive educational outreach. International touring has included performances in China, Korea, Ireland and the Czech Republic. Guest choreographers Charles Moulton, Joe Goode, Mitchell Rose, David Parsons, Remy Charlip, Louis Falco, Lucas Hoving and others have created or set works for the company. The company serves an important educational role in the department. The SBDT dancers inspire, validate and focus student aspirations by modeling professional work process from daily class through creation, rehearsal and performance. Since the company's inception in 1976, many company members have been former UCSB Dance majors, invited to join the company immediately after graduation or after pursuing a professional career.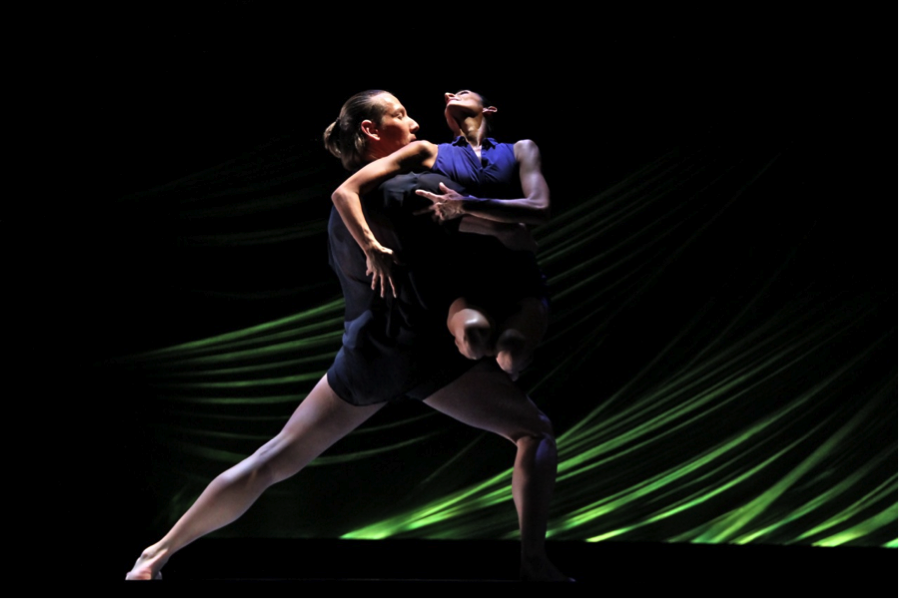 Dancers: Tracy Kofford and Christina Sanchez in Pilafian's A Leap of Faith (2013)
Photo: Kathee Miller
Recent work
"…there is a quality of deep engagement between the four dancers that lends the work a startling humanity."
- Elizabeth Schwyzer, Santa Barbara Independent
Santa Barbara Dance Theater and Friends (2018)
SBDT's seventh season under the leadership of Christopher Pilafian presents a collaboration between dancer/choreographer Miche Wong (UCSB BFA 2009, worked with Guangdong Dance Company, Garrett and Moulton and others) and world-traveling artist Mary Heebner, whose encounter with the mythic Apsara at the temple of Angkor Wat provided inspiration for the project. Pilafian's new Toggle enlists the talents of the UCSB Percussion Ensemble live on stage, under the direction of Dr. Jon Nathan, with a cast that includes students in the SBDT Mentorship Program. Andrea Giselle Schermoly premieres Moonscapes with a surprisingly varied sound score and an unforgettable scenic element of gently falling white confetti. And the UCSB Dance Company performs, as guests, Nancy Colahan's Dejà Vu for Strings and Percussion, featuring the musical composition of former LA Philharmonic cellist, Gianna Abondolo.
- Hatlen Theater
Now/Ever/More (2017)
In the company's return to the Historic Lobero Theatre in downtown Santa Barbara, guest choreographer David Maurice premieres his multi-part meditation, Were it Not for Shadows and performs a new solo, Liminal Red. The company also performs the premiere of Andrea Giselle Schermoly's Hers; Pilafian's Chamber Fantasy, with music of Georg Friderich Handel; Jane Dudley's heritage work Cante Flamenco (1944), restaged by Nancy Colahan and performed by the extraordinary Christina Sanchez; and a return of Pilafian's Mystique, with an original musical score by Will Thomas.
- The Historic Lobero Theatre
Anima and Animus (2017)
In a time of shifting emphasis on and definitions of gender, SBDT's winter Hatlen Theater season offers three premiers and a pivotal heritage work. Guest choreographer Rebecca Lemme (Artistic Director, Acts of Matter) premieres Witnesse with music of Brian Wood. UC Santa Barbara's newest member of the dance faculty, Brandon Whited premieres Petit Pas, a sly reversal of classical pas de deus gender roles; Nancy Colahan restages Jane Dudleys response to the Spanish Civil War, Cante Flamenco (1944), performed by Christina Sanchez. And Pilafian offers his new Mystique, dedicated to the extraordinary women who have influenced Pilafian's life and work; with an original score by composer Will Thomas.
- Hatlen Theater
Santa Barbara Dance Theater... and Friends (2016)
SBDT's return to the Lobero Theatre following a long hiatus, includes the premiere of Salt, a contemplation on the effects of drought, commissioned from international choreographer Joshua Beamish, who also performs his own, elegant and saucy solo, Concerto. Emily Schoen restages her A Jointed Affair, after its premiere at Jacob's Pillow, and Artistic Director Pilafian revives Strange Attractor, a collaboration with composer Ryan Beveridge.
- The Historic Lobero Theatre
40th Anniversary Season (2016)
To mark the 40th anniversary of the founding of UC Santa Barbara's professional, resident contemporary dance company, Artistic Director Christopher Pilafian invites prior artistic directors, Alice Condodina and Jerry Pearson, to create new works for the company. Pearson's whimsical Amuse Bouche opens the program, followed by Condodina's rhapsodic Fragrance of Memory. The company returns to the multi-faceted collaborative project Common Ground (2015), choreographed by Edgar Zendejas; and Pilafian's new Strange Attractor closes the program, with an original score composed by Ryan Beveridge. Lighting and production design for the program are by Michael Klaers. Janet O'Neill designed costumes. 
- Hatlen Theater
Common Ground (2015)   
SBDT joins forces with State Street Ballet and Detroit's Eisenhower Dance to commission a large-scale work from international choreographer Edgar Zendejas. The Montreal-based Zendejas deftly and imaginatively weaves together the three companies — a cast of 21 dancers — to produce an expansive, deeply personal work, inspired in part by The Four Seasons of Antonio Vivaldi as recomposed by Max Richter. Also on the program is Pilafian's 2014 work, Smolder.
- Granada Theater
Time in Motion (2014)
The centerpiece of SBDT's second season directed by Christopher Pilafian is José Limón's pivotal The Moor's Pavane (1949), drawn from source material that inspired Shakespeare'sOthello. Professor Emerita Alice Condodina, former principal dancer with Limón, restages the work under the auspices of the Limón Foundation. Bookending this masterwork of dance history are two new works by Pilafian: his elegiac Smolder featuring a beautiful Rachmaninoff piano trio, and Spark to Shine, a spirited romp built upon songs of Earth Wind and Fire. Scenic design by Mr. Pilafian and Michael Klaers, who also designed the lighting for the program. 
- Hatlen Theater
A Leap of Faith (2013)
SBDT's first work under the leadership of Christopher Pilafian, A Leap of Faith explores the interplay of positive and negative space onstage that occurs organically within relationships. This two-act work is comprised of over 30 individual pieces that seamlessly combine to create an indelible evening of dance theater. A Leap of Faith is particularly appropriate for a company heading in a new direction of artistic exploration. Leap introduces the company members as distinct individuals forging connections, discovering  common ground and shared purpose. Costumes by Anaya Cullen and lighting/scenic/production design by Michael Klaers.
- Hatlen Theater
Links to articles
Time In Motion
http://www.independent.com/news/2014/jan/21/review-santa-barbara-dance-theater-ucsbs-hatlen-th/
http://www.noozhawk.com/article/review_time_in_motion_20140117
http://issuu.com/casamagazine/docs/2.7.14.casa
A Leap of Faith
http://www.independent.com/news/2013/jan/10/santa-barbara-dance-theater-ushers-new-era/
http://www.noozhawk.com/article/011713_santa_barbara_dance_theater_leap_of_faith/
Contact
pilafian@theaterdance.ucsb.edu
Become a Friend of SBDT
Santa Barbara Dance Theater depends upon private donations to create and perform new works, commission collaborative artists and produce video documentation. Private gifts constitute 80% of the company's budget. Gifts are tax deductible. We appreciate your support!
Checks can be made to "UC Regents -- for Santa Barbara Dance Theater."
Mailing address:
Eric Mills, Business Officer
Department of Theater and Dance
University of California
Santa Barbara CA 93106-7060
It is the policy of the University of California, Santa Barbara and the UC Santa Barbara Foundation that a modest portion of gifts and/or the income from gifts may be used to defray the costs of raising and administering funds. The current assessment is 6%, with a cap at $180,000 for gifts of $3 Million and above.