The UCSB Department of Theater and Dance is proud to announce that the next Michael Douglas Visiting Artist is Iqbal Khan. Mr. Khan will be in residency with the department Thursday, February 6th and Friday, February 7th.
Mr. Khan will hold master classes in directing, acting, design, theater and community, and an Othello interview session during dr. Arvas' class [Shakespeare]. The class will be open to all Theater/Dance students who would like to come and talk about Khan's Othello production. 
On Thursday, February 6th, there will be a public lecture, followed by a reception. And on Friday, prominent Shakespeare scholar Jyotsna Singh will join us for a talk, followed by a roundtable with Khan, and faculty from Theater and English. Access to Professor Singh's most recent book, Postcolonial Shakespeare is available electronically on UCSB library page. In a section in her book, Prof. Singh writes on Iqbal Khan's art.
More information about Mr. Khan and his work:
Interview at the Stage:
SCHEDULE:
A week-long residency with the distinguished British theater director – most celebrated for his ground-breaking productions of Othello, Anthony and Cleopatra, and most recently Tartuffe at the renowned Royal Shakespeare Company – culminating in these exciting events:
Master Classes:
2/3 Monday: 
1-2.20pm: THTR 160C: Theater and Community [Michael Morgan]
2/4: Tuesday
3-4.50: pm THTR 152B: Directing [Risa Brainin]
6-8 pm: Session with the Tartuffe team [Julie Fischell]
2/5 Wednesday:
9-10.50am: THTR5: Acting [Jo Palazuelos-Krukowski]
1-2.50pm: THTR122: Design [Greg Mitchell]
Public Events:
2/6 Thursday:
11:00am-12.30pm Othello Q&A, Studio Theater
5:00-6.30pm: "Tales of Innocence and Experience" Lecture by Iqbal Khan, Studio Theater
6.30pm: Reception in the Performing Arts Theater Lobby
2/7 Friday:
1:30-2:00pm: "Shakespearean Journeys into Kashmir: Vishal Bhardwaj's Haider/Hamlet" Lecture by Professor Jyotsna Singh (Michigan State University), Studio Theater
2:00-3:00pm: "Why Shakespeare, Why Theater, Why Now?" Roundtable with Iqbal Khan, Jyotsna Singh, Bernadette Andrea, Irwin Appel, Michael Morgan
Moderated by Abdulhamit Arvas, Studio Theater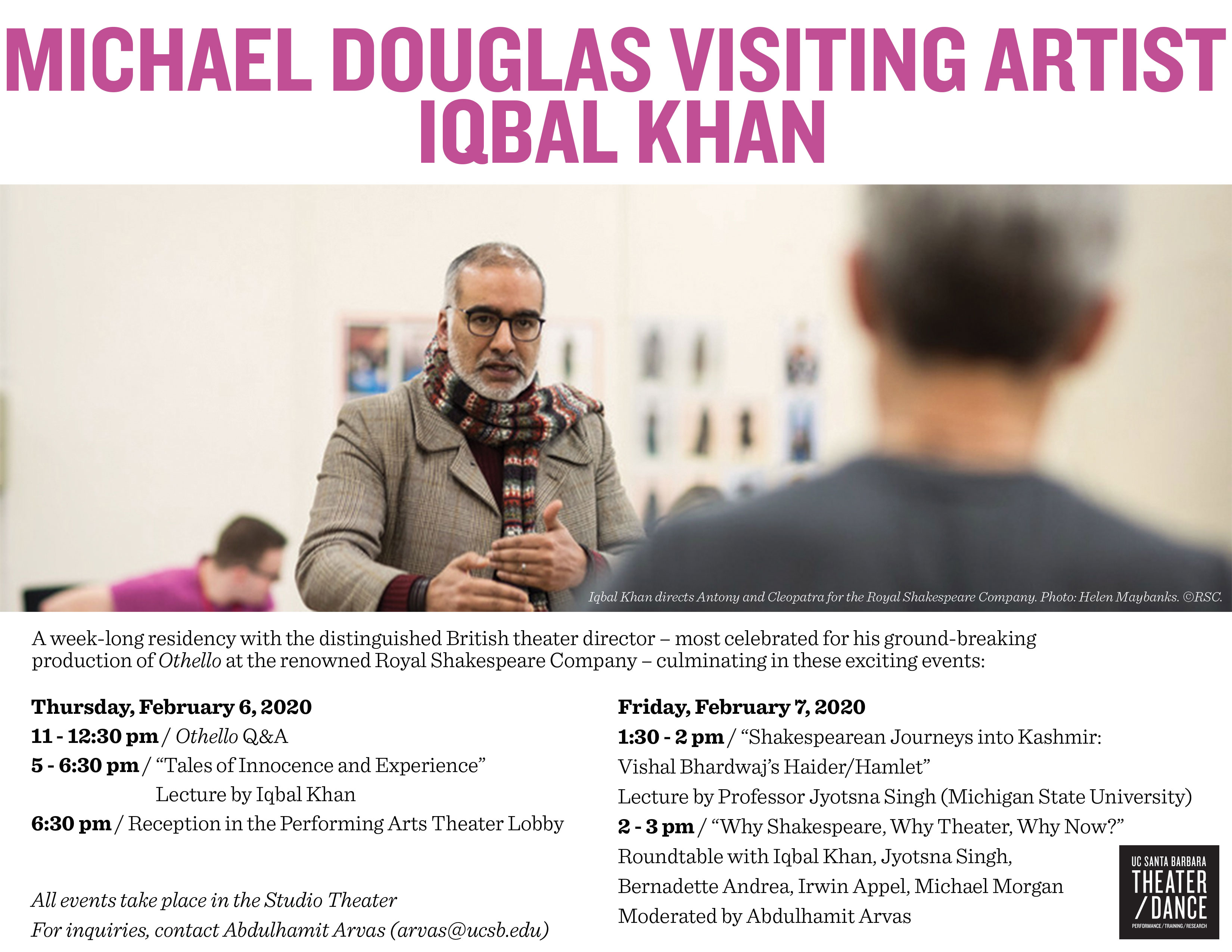 January 23, 2020 - 2:51pm