Event Date:
Thursday, April 12, 2018 - 8:00pm

to

Saturday, April 14, 2018 - 8:00pm
Saturday, April 14, 2018 - 2:00pm
Event Date Details:
APR 12-14 / 8 PM
APR 14 / 2 PM
Event Price: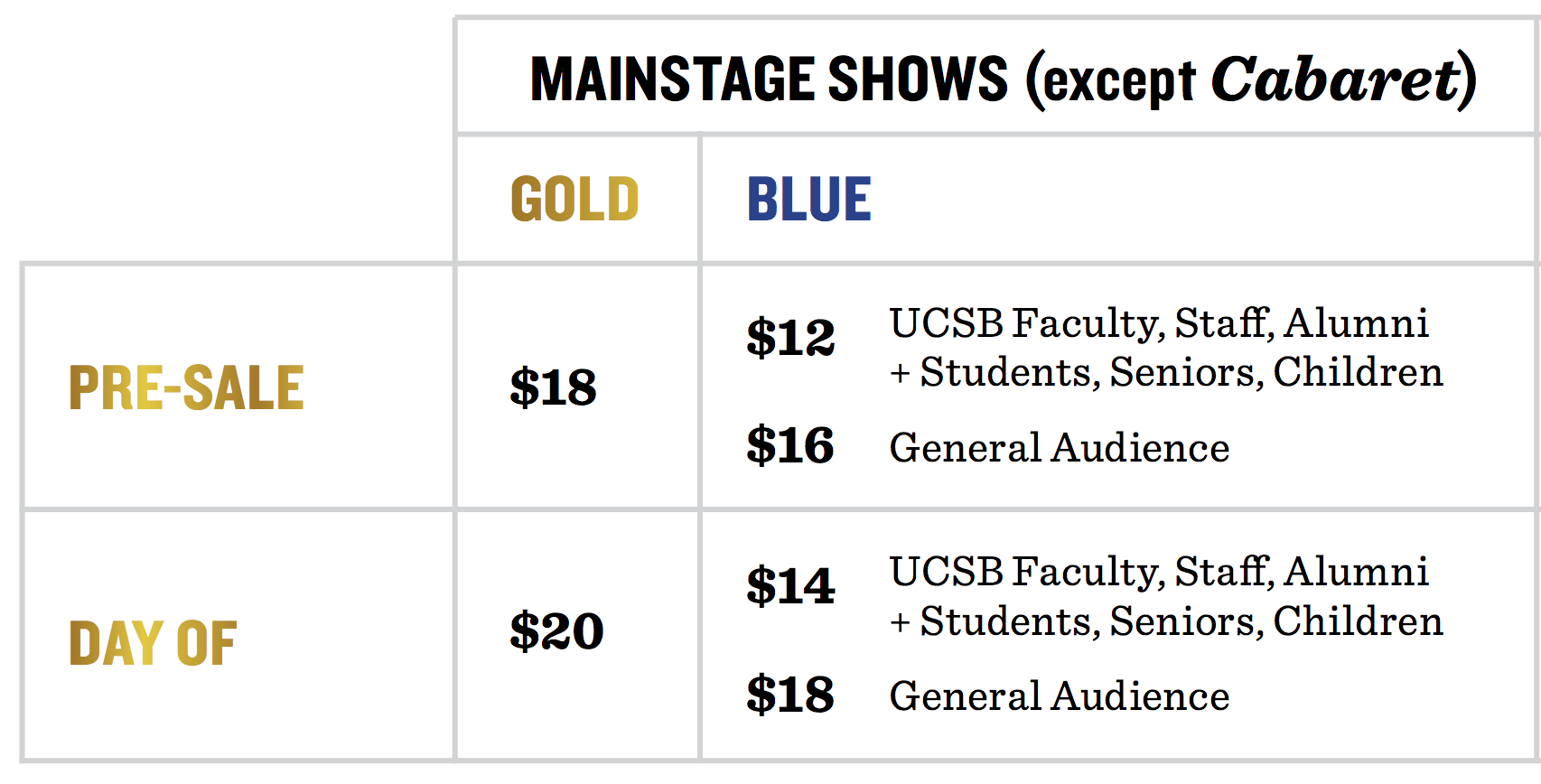 For more info on tickets and seating, click here.
UCSB Dance Company
Kalopsia: Delusions of Beauty
under the direction of  Brandon Whited
The evening of dance features new, original works by graduating BFA students Patricia Martin, Mica Moody, Bianca Salazar, Moira Saxena, Dianne Robleza, and Katie Winans.  Alongside these student works, renowned choreographer Jacqulyn Buglisi offers a reimagined version of Moss (2017)—adapted specifically for the dancers of the UCSB Dance Company, and in response to the tumultuous state of our country and the world.  This new version, Moss Variations #3 (2018) – Dialogues on What Makes Us Human, premieres at UCSB before our students present it this spring as part of their annual European Tour.
UCSB's dance concerts also serve as a laboratory for creative collaboration, featuring fresh, visionary costumes and lighting by our talented design students.  This year, Mitchell Jakubka takes the helm as the lighting designer for the entire concert as a senior honors project exploring the intersection of creative design practice and historical research.  Jakubka is closely advised by Lighting Director Vickie Scott, and Costume Director Ann Bruice leads the team of innovative costume design students.
Kalopsia is popularly defined as "the delusion that things are more beautiful than they are."  One might read this as an indication of artifice or as pointing to the pervasive superficiality of a culture driven by social media, commercialization and capitalistic drive.  Yet, with nuance, authenticity and bursts of physical abandon, these works reflect the complexity and range of how we relate to one another.  Each dance is drawn from the personal experiences of each artist, and that of the dancers interpreting their works, in order to lay bare something raw and relatable.  The choreographers invite you to witness this evening as an expression of the depth and breadth of the human spirit and the great potential human interaction has to connect, support and heal individuals, but also challenge, hurt, and even traumatize one another.  We must take the good with the bad, and through reflection, empathy and vulnerability, we can emerge from any experience with growth, strength and a bit more humanity.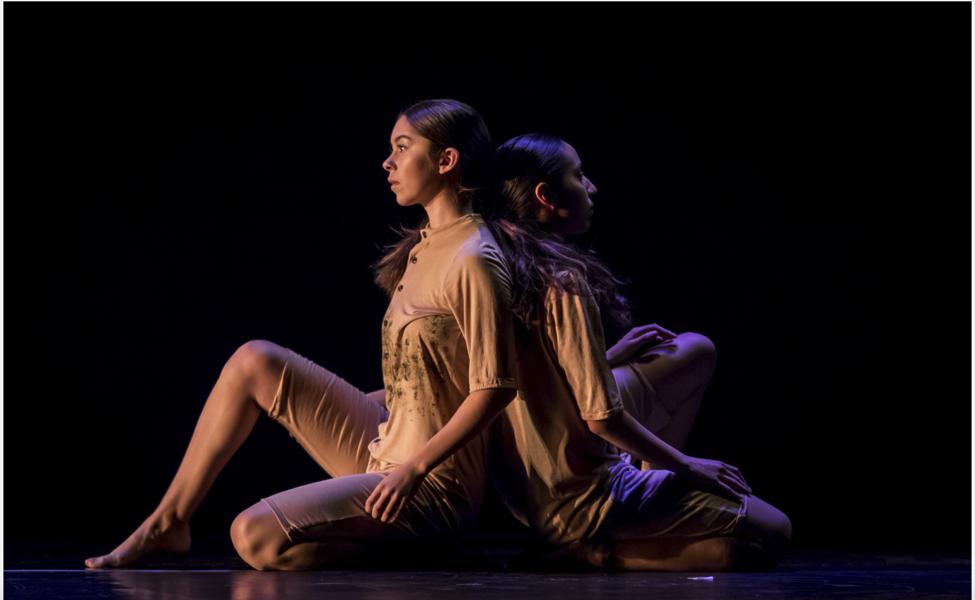 Concert Director
BRANDON WHITED is new to UCSB, having begun his post, this Autumn, as an Assistant Professor of Dance with a focus in creative/choreographic research.  Mr. Whited comes to the department following the completion of his MFA at the Ohio State University. Brandon enjoyed an intense seven year performing career in New York City as a core member of Shen Wei Dance Arts from 2008-2014, as well as a freelance artist performing with STEELEDANCE, Randy James Dance Works, danscores by Ofelia Loret de Mola, and Daniel Gwirtzman Dance Company.  Mr. Whited's choreographic research focuses on the intersection of masculinities studies and dance, as well as a broad consideration of feminist/queer/gender studies alongside historical dance frameworks.  Since arriving at UCSB, he is thrilled to have been given the honor of directing the Fall and Spring Dance concerts. Most recently, he contributed choreography to the LAUNCH PAD production of the new play, Bernhard—written by Lynn Rosen and directed by Anne Torsiglieri. In January, 2017, he will choreograph and perform in a new duet as a guest artist for Santa Barbara Dance Theater, and create a new work with students for the spring concert.
Designer Directors
ANN BRUICE is continuing Lecturer at the UCSB Department of Theater/Dance. Ms. Bruice is a recipient of the 2012 Academic Senate Distinguished Teaching Award. UCSB design credits include: Bernhard, The Death of Kings, Venus (Santa Barbara Independent Theater Award), Importance of Being Earnest, Macbeth, Eurydice, Anowa, Tartuffe, Cloud Nine, Hamlet, She Stoops To Conquer (Santa Barbara Independent Theater Award), Iphigenia 2.0, Kingdom City, Seagull, Plumfield, Iraq, Woyzeck, Idiot's Delight, and Pentecost. UCSB dance designs include: Christopher Pilafian's Oracle, Circuits, Between Thoughts; Christina McCarthy's Love, Petrushka, Occupation, Requiem for Bubbles; Nancy Colahan's Deep Currents, No Freedom Like a Dance, Elastic Flip and the re-staging of Lar Lubovitch's Marimba. Nationally and internationally Ann has designed 17 productions for South Coast Repertory, including: Philadelphia Story and You Can't Take It With You(Los Angeles Drama Critics' Circle Awards each), Hay Fever, Blithe Spirit, and New England (Drama-Logue Awards for each). Ms. Bruice has also designed for the Mark Taper Forum, American Conservatory Theater, Pasadena Playhouse, Los Angeles Theater Center, Manitoba Theater Center, San Jose Repertory, New Mexico Repertory, Philadelphia Theatre Company, the Grove Shakespeare Festival, and PCPA. Ms. Bruice spent five seasons (110 episodes) designing the series Babylon 5, garnering an International Cult Television Award. Local design credits include: The Fantasticks, Take Me Out for Ensemble Theatre Company; All My Sons, Night of the Iguana, Driving Miss Daisy (Ovation Nomination) for the Rubicon Theatre; A Christmas Carol for the Granada; The Beard of Avon (Indy Award) for SBCCTheater Group and Dancing Here Now for Santa Barbara Dance Theater. She holds an M.A. in Drama from UCSB, an M.F.A. in Costume Design from Cal Arts. Ms. Bruice is a member of USA 829, and CDG 892. Ann is most inspired by her son, Michael.
VICKIE J. SCOTT 
is the Head of the Design Program, as well as the Faculty Undergraduate Advisor in the Department of Theater and Dance where she teaches design for theater and dance, designs productions, and mentors students. Vickie is also the Chairperson of the Board for The California Arts Project and is a member of the Illuminating Engineering Society of North America, the International Association of Lighting Designers, the United States Institute for Theater Technology, and United Scenic Artists Local 829.
Choreographers
Jacqulyn Buglisi returns to UCSB following a stunning re-staging of her work Table of Silence in Storke plaza in the Spring of 2016 to commemorate the tragic events of Isla Vista in 2014.  The event featured 75 dance majors accompanied by musicians and vocalist from the campus community in an expression of strength and resilience and in honor of the fallen.  Her new work Moss Variations #3 – Dialogues on what Makes Us Human, calls upon the collective power of the UCSB Dance Company.
Patricia Martin's With All My Love… resonates on the pure bliss that comes with falling in love for the first time. Manifesting the feeling of absolute oblivion and abandonment in one's own happiness when it seems that nothing can go wrong.  Using choreographic research to translate these emotions into movement, the piece is inspired by Martin's new-found appreciation for the idea of love—being in love; loving someone full heartedly, and being loved in return; and the immersive potential of love to bring absolute joy.
By the Light of the Moon, by Katie Winans, is drawn from the idea of people taking on the role of 'moonlight' in our lives. Winans sees someone who embodies 'moonlight' as a person who is there for us—shining light on us even when everything else around us is dark. When we cannot even see ourselves, or where we are going, our 'moonlights' help us find our way back.  
Rock Bottom/New Beginning, by Mica Moody, explores the downward spiral where bad news seems to be constant and everywhere—the hopelessness of 'Rock Bottom.'  Yet, even a small shift in perspective, or a friend's reassurance that "it is okay not to be okay," can ease the pain and struggle, and mark the beginning of a new chapter.
Catharsis by Dianne Robleza expresses the experience of trauma such as sexual abuse and the transition of how it feels to begin the healing stage. It brings to light that positive growth and inner strength can emerge from even the most challenging and traumatic experiences, and that there is indeed a light at the end of the tunnel.
Moira Saxena's In Plain Sight blends hip hop, ballet, ballroom, and contemporary dance styles to depict a couple in the beginning stages of falling out of love.  The pair is embodied by two separate duets representing the couple in different points in time within their relationship.  Shifts in dance genres are utilized by Saxena as a means of illustrating this relational evolution over time by drawing out the qualities and differences of each distinct style.
Inspired by a quote from Sylvia Plath's The Bell Jar, Bianca Salazar's piece, higo (meaning fig in Spanish), contemplates the indecision that one faces in life when being presented with endless opportunities and possibilities. Plath's prose poetry describes the story of a woman sitting in front of a fig tree, upon which every fig represents a different path that her life can take.  Overwhelmed by choices she is unable to pick just one.  Slowly the figs wilt and die in front of her eyes, leaving her starving to death. Salazar believes this message will resonate with a young audience, as at this age, many desire to live out their best lives, but more often than not, they fail to do so; allowing fear and indecision to hold them back.
Designer
Mitchell Jakubka (Lighting Designer) is a fourth year Theater Design major, emphasizing in lighting. This is his 16th show at UCSB, having previously designed for Fall and Spring Dance Concerts, the UCSB Freshman Dance Company, The Odyssey Project, the New Works Lab and co-designing Bernhard and Lydia alongside Vickie Scott. He also works as an electrician and lighting designer in the SF Bay Area. This Fall, he will attend Carnegie Mellon University, beginning studies towards an MFA in Lighting Design. This lighting for this concert is part of his Honors Research Project, an analysis of historic designer Jean Rosenthal's (1912-1969) groundbreaking method, one of the first to harness and believe in light's ability to affect and artistically contribute to the narrative of dance. 
UCSB Dance Company
More Coming Soon!!
September 20, 2017 - 10:30am