Event Date:
Thursday, May 10, 2018 - 8:00pm

to

Saturday, May 12, 2018 - 8:00pm
Thursday, May 17, 2018 - 8:00pm

to

Sunday, May 20, 2018 - 8:00pm
Saturday, May 12, 2018 - 2:00pm
Saturday, May 19, 2018 - 2:00pm

to

Sunday, May 20, 2018 - 2:00pm
Event Date Details:
GOLD BILL
MAY 10, 18-19 / 8 PM
MAY 12, 20 / 2 PM
BLUE BILL
MAY 11-12, 17, 20 / 8 PM
MAY 19 / 2 PM
Event Price: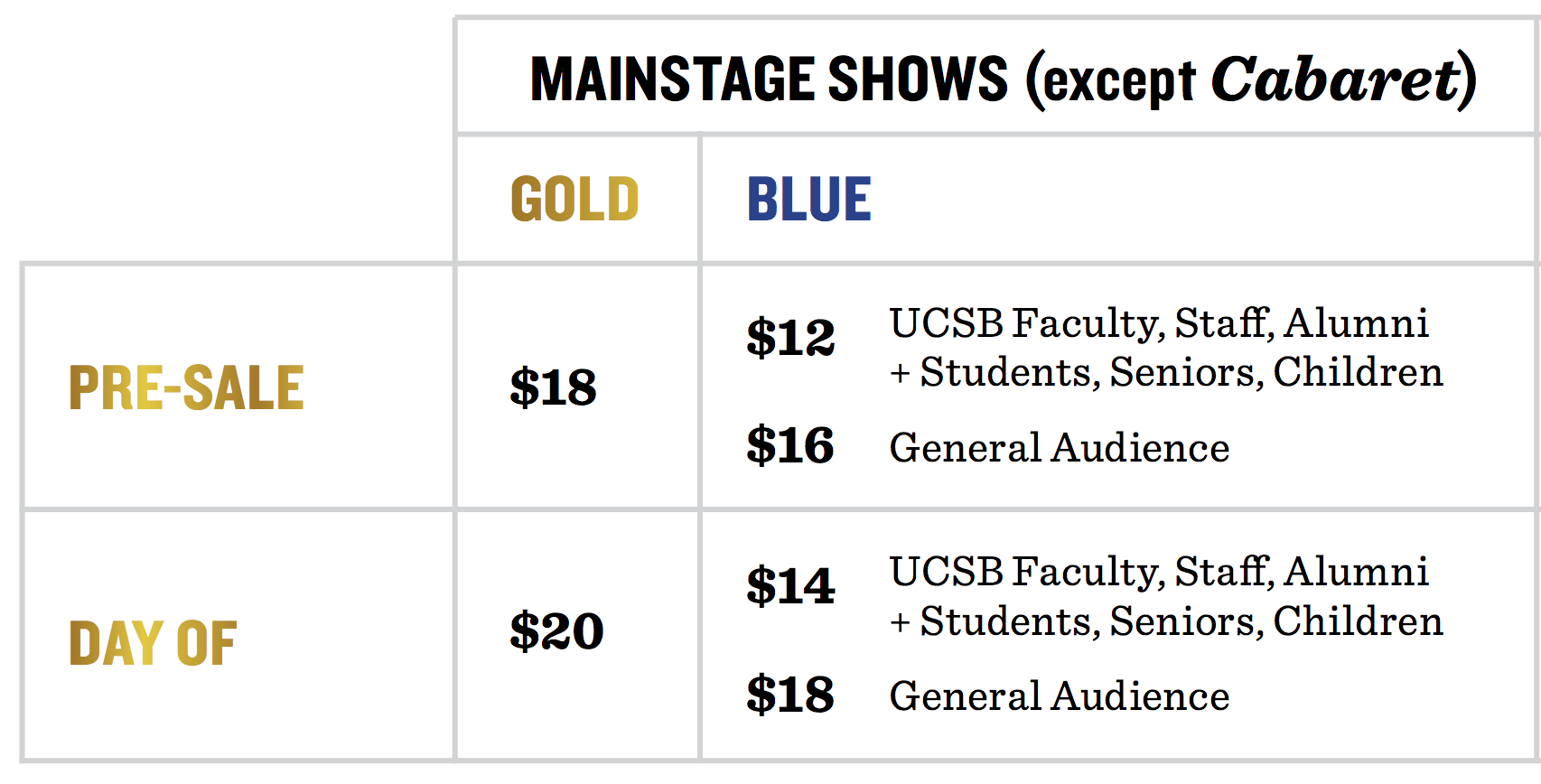 For more info on tickets and seating, click here.
mentored by Frances Ya-Chu Cowhig, Vickie J. Scott, Daniel Stein and Una Mladenovic
New Works Lab presents original student projects with a year of developmental support culminating in workshop productions in the Studio Theater. 
GOLD BILL
MY ROLL, MY ROLE, by Michael Lin
When Fay, a disheartened college student on the verge of graduation, falls into the torrent that is facing reality, the rejection from his family and school leaves him crippled beyond seeming repair. Now he's stuck in a fantasy limbo that he has created for himself. His older brother Gus, along with his friends, will have to draw their swords, polish their armor and prepare their spells, in order to dive into the fantasy world of Dungeons and Dragons in order to reach the lost soul. This short play aims to plunge the audience into an adventure in supposed real life, filled with metaphors and slayings of (literal) inner demons.
ARTIST STATEMENT: I'm in a long-term love/hate relationship with pretentiousness. I adore playing tabletop games, specially Role-playing games because they allow one to leave the intolerable suffering that is real life for just a few moments. However, they can also trap one from engaging with reality. It is easy to lose hope when real life is so terrible in comparison, and there's nothing one can do about it, given how powerless and worthless one is in reality. When I lost hope, it was my brother that granted me the tools, and imbued me with the determination to fight on—In the grand scheme of things, that's the story I'd like to tell, where one's role is determined by one's own rolls.
SODA JERKS, by Harry Davis
Justin, a hopeless romantic and Sean, his cynical best-friend, have just graduated high school and are trying to achieve the impossible: getting Justin a girl. What exactly "getting" a girl means is where the trouble begins, when Justin's tinder date Helen comes over to the house Justin is sitting. Is it love or sex? Does Helen want to be "gotten" at all? Both boys try to achieve their goals, until all boils over and they have to decide if it is worth being friends with someone who can make you so miserable.
ARTIST STATEMENT: This play is a drawing-room comedy for the 21st century. My goal with this piece is to explore the intimacy of teenage male friendships which can only be seen behind closed doors, and all the humor and betrayal that comes with those relationships. I want to authentically capture the idiosyncrasies of today's youth without making caricatures, and explore how those people became who they are.
FAST FOOD TAKEOVER, by Brynn Johnson-Shrout
Six months after a catastrophic natural disaster, Xander, to help pay for his student loans, gets a job at the local McDonald's, which has turned into an industrial complex, housing employees & refugees alike. Xander discovers that the changes are due to Jerry, the sinister new general manager who waltzed in right after the disaster, making it impossible for anyone to leave without being punished, or, in extreme cases, disintegrated. When his coworker Bob gets disintegrated, Xander makes it his mission to find out what's really going on, and stop Jerry.
ARTIST STATEMENT: In this play, I am attempting to explore and critique the effects of late stage capitalism/corporatism. Many corporations exploit employees' need for a job, giving them unreliable hours, and scheduling them in a conflicting way with other jobs, or commitments (such as school). Jobs with so called "flexible" hours half the time are not flexible about hours, forcing employees to just make it work, all while paying them such low wages as to make it near impossible to subsist on wages just at one job. I am interested in exploring what happens when employees fight back, but in a metaphorical context. I want to know how people react when hell is on their doorstep, when they get pushed too far, so to speak. I would also like to explore the motivation behind that, and how far is too far.
BLUE BILL
BAD BLOOD, by Jazmine Bang
Born with a curse because her parents disregarded Doña Thiche's warning of mixing their races together, Faye must now go through life trying to prove her identity as a biracial person to each of her people. She must endure all of the rejection brought her way until her 18th birthday arrives, in order to break the spell. With her parents by her side Faye is able to find strength in knowing who she is and where she comes from, but Doña Thiche doesn't plan on making this road easy for her. She will try everything in her power to show Anne and Chuy that their precious baby was a mistake, and that mixed blood cannot survive out here.
ARTIST STATEMENT: My play takes the struggles every mixed person faces, and externalizes them by using elements of absurdity, magic, and fun to tell a unique story. I want the conflict to continue bubbling bigger and bigger towards the direction I'm taking it, and make this journey of finding identity and acceptance a fun one to continue working and writing on for me, my director, actors, and audience. 
THE SEX DUNGEON SPEED DATING SPECTACULAR, by Alessandra Albanese
After her best friend Billie's recent breakup, Charlotte sets up a dating game show in their local sex dungeon in order to find Billie a new, kinky partner.  Billie meets several contestants, but none of them work out. As tensions reach their climax, Charlotte must confront the consequences of her actions, and the impact they have on her relationship with Billie.
ARTIST STATEMENT: Through the absurdity that is all too common in online dating, I aim to explore themes of alternative sexuality and BDSM, consent and communication, and the fine line between friendships and relationships. While BDSM as a practice requires negotiation and mature communication, the people who practice it are often flawed – though no more so than their "vanilla" counterparts. I want to take a look at what happens when feelings and desires are expressed in healthy and unhealthy ways, and what the consequences are on relationships both platonic and romantic.
ENAMORED WITH THE EPHEMERAL, by Malique Guinn
Al is a former child actor/entertainer whose career declined after an anonymous source uncovers some disturbing news about his life. Now living a life of lament and frugality with his mother, Karin, Al's time and luck begins to steadily run out as he attempts to rehabilitate his image and recreate a legacy for himself that he truly desires. When he is offered the opportunity to play Kanye West in a biopic, he is forced to understand the distinction between real life and the matrix by entering a world of emotional and absurd events as his method acting.
ARTIST STATEMENT: In this play, I explore the disturbing nature of the pursuit of fame and the dark places that people will go to achieve notoriety. Today's world, or the Internet world, can make or break the career of an individual. It can propel to you fortune just as quickly as it can bury you. In other words, fame is fickle. Love is fickle. This play is about integrity and the delicacy of one's navigation through the world in order to have a worthy legacy that is not detrimental to one's character. In addition, it is about the distinction between the real world and the Internet world and the consequences that await those who do not take it seriously.
September 20, 2017 - 10:35am