Event Date:
Friday, May 25, 2018 - 8:00pm

to

Saturday, May 26, 2018 - 8:00pm
Tuesday, May 29, 2018 - 8:00pm

to

Thursday, May 31, 2018 - 8:00pm
Friday, June 1, 2018 - 8:00pm

to

Sunday, June 3, 2018 - 8:00pm
Saturday, May 26, 2018 - 2:00pm
Saturday, June 2, 2018 - 2:00pm

to

Sunday, June 3, 2018 - 2:00pm
Event Date Details:
MAY 25-26, 29-31, JUN 1-3 / 8 PM
MAY 26, JUN 2-3 / 2 PM
*PLEASE NOTE THAT THERE IS NO LATE SEATING IN THE PERFORMING ARTS THEATER. PRODUCTION ESTHETICS INCLUDE NUDITY, HAZE, AND HOLOCAUST VISUALS.
Event Price: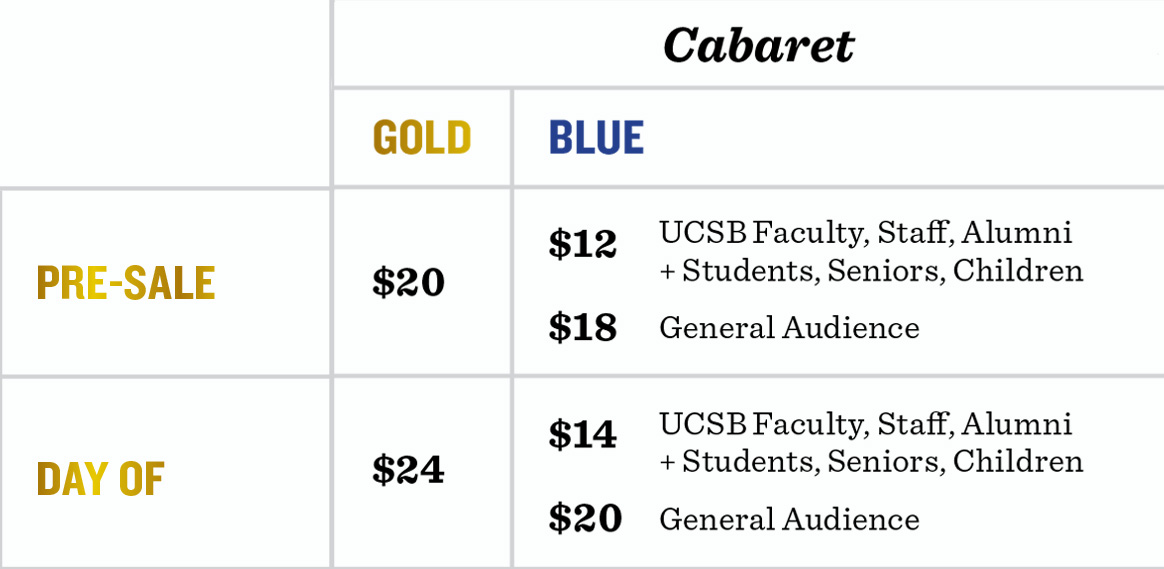 For more info on tickets and seating, click here.
book by Joe Masteroff
?based on the play by John Van Druten and stories by Christopher Isherwood
music by John Kander
lyrics by Fred Ebb
directed by Julie Fishell
music direction by Jon Nathan
choreography by Christina McCarthy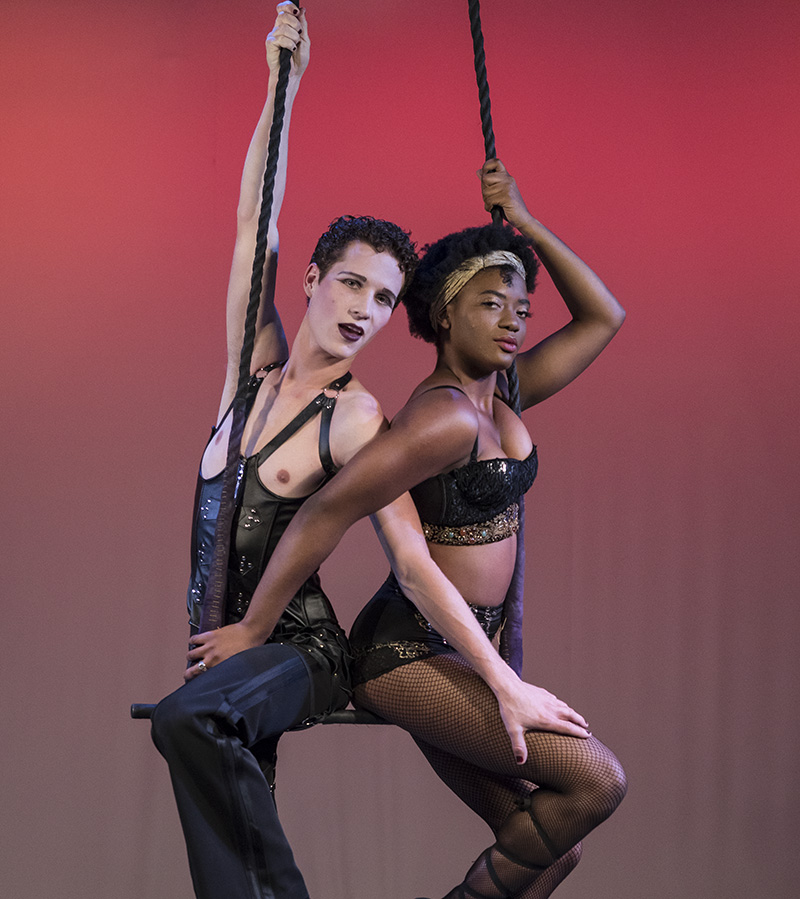 Set in Germany on the cusp of the Nazis' rise to power, this iconic musical resonates in our contemporary world. What happens to a society that sings and dances away its fears, rather than looks them in the eye?
"There was a cabaret, and there was a master of ceremonies... and there was a city called Berlin, in a country called Germany...and it was the end of the world."
-Joe Masteroff,
Cabaret: The Illustrated Book and Lyrics
*PLEASE NOTE THAT THERE IS NO LATE SEATING IN THE PERFORMING ARTS THEATER. PRODUCTION ESTHETICS INCLUDE NUDITY, HAZE, AND HOLOCAUST VISUALS.
Dramaturg's Note 
1918. "The War to End All Wars" was over. The Allied Powers (including France, England, and the United States) emerged victorious and, under the terms of the Treaty of Versailles, Germany was charged severe reparations to several European nations. Sparked by a sailors' revolt at the end of the war, the socialist- inspired November Revolution replaced the German monarchy with a progressive democracy centered in Weimar.
This new Weimar Republic, struggling to rebuild and pay the reparations from WWI, took the economy off the gold standard. While this granted some short-term bene ts, in the ensuing years in ation climbed at a staggering rate. From 1918 to 1925, the value of one German mark fell to one trillionth of its 1918 worth in gold. Paper currency effectively became meaningless. It was not uncommon to see banknotes littering the street, glued to walls as a cheap wallpaper substitute, or stacked and used as blocks for children to play with. Saving money became impossible, or at least illogical, as its value fell so quickly. In 1925, the United States, its economy booming, began to loan Germany money to help the government meet its payments. However, following the American stock market crash of 1929, Germany once again faced economic uncertainty.
Seeking to nd what little pleasure they could to escape a gritty world of drudgery and poverty, many Germans, especially those in urban Berlin, were drawn to the emerging art scene. A postwar boom in artistic expression brought forth experimental new forms in the world of visual art, lm, and performance. Cabarets were particularly popular, offering satirical musical numbers, elaborately choreographed dancing, and often scandalously dressed performers. Along with this economic hardship and club culture came heavy alcohol and drug abuse. As such, a culture of excess grew out of this world of so little.
After the war, women took to the public workforce more than ever before, having become accustomed to lling many professional positions while men were away at the fronts. In many cases, women would retain these positions after the war, taking over businesses from husbands or fathers who had lost their lives. Further, as a result of the more liberal regime of the new government, Berlin in the Weimar period became known for a relative openness in terms of sexuality and gender expression, despite the continued presence of more conservative, traditional elements in the population. A result of this uncertainty in the face of dramatic socioeconomic change, the political spectrum became increasingly bifurcated.
The growing communist movement campaigned for Marxism, which was taking hold elsewhere in Europe. At the same time, the fascist National Socialists (or Nazis) grew popular through highly patriotic rhetoric that promised an end to the shame following WWI and suggested an easy scapegoat for the nation's problems. The Nazis' narrow victory in the Reichstag election of 1933 and Hitler's subsequent appointment as Chancellor marked the political tipping point, cementing the trajectory of Germany – and indeed the world – for decades to come and de ning the twentieth century.
- Cole Remmen
Director's Bio
JULIE FISHELL is a Lecturer in the UCSB Department of Theater/Dance teaching acting and directing. Ms. Fishell served for over twenty years as a professor of acting and directing at the University of North Carolina at Chapel Hill and as a company member of PlayMakers Repertory Company (LORT) until 2017. Julie is the recipient of the Tanner and the Johnston Awards for Excellence in Teaching from UNC-Chapel Hill and several Best of Indy Theatre Awards for Lead, Supporting and Ensemble performances with PlayMakers. Directing includes Ibsen's Hedda Gabler, Tim Robbins' Dead Man Walking, Caryl Churchill's Mad Forest, Chekhov's The Cherry Orchard, the NC Women's Prison Writing and Performance Project including Doing More Than Time, Shakespeare's A Midsummer Night's Dream, Sophocles' Antigone, Brian Friel's Translations and the musicals The Cradle Will Rock, Mahagonny Songspiel, Brecht/Balanchine's The Seven Deadly Sins, Urinetown, Oliver!, The Music Man, and The Mystery of Edwin Drood.
As an actor, Julie has appeared Off-Broadway, Regionally and with National and International Tours. Stages include The Public Theatre (NYC), The Lark (NYC), Manhattan Class Company (NYC), Theatre for a New Audience (NYC), Chautauqua Theatre Company (NY), Hartford Stage (CT), The Kennedy Center (DC), Virginia Stage Company (VA), Prague Shakespeare Company (Czech Republic) and the Moscow Art Theatre (MXAT, USSR). Fishell has appeared in numerous productions including the World Premiere production of Horton Foote's The Death of Papa with Matthew Broderick, Ellen Burstyn and Jean Stapelton; Vanya, Sonia, Masha and Spike, Private Lives, August: Osage County, God of Carnage, Who's Afraid of Virginia Woolf?, The Tempest (Prospero), Angels in America, Beckett's Happy Days, All My Sons, Death of a Salesman, Doubt, Othello, A Little Night Music and Assassins. Education: University of Evansville, B.F.A.; The Juilliard Drama Division (Group XIX - Michel and Suria St. Denis Prize for Outstanding Artistic Achievement); Professional Actor Training Program, MFA (UNC-Chapel Hill). Professional af liations: Actor's Equity Association; SAG/AFTRA; National Alliance of Acting Teachers. Upcoming Directing: UCSB LAUNCHPAD Summer 2018.
Press
"My goal is that our production will manifest with artistic skill the connection of intolerance to despair," said Fishell, adding that she hopes this rendition will be felt as "a good deed in a weary world." 
- The Santa Barbara Independent Preview Article
Gallery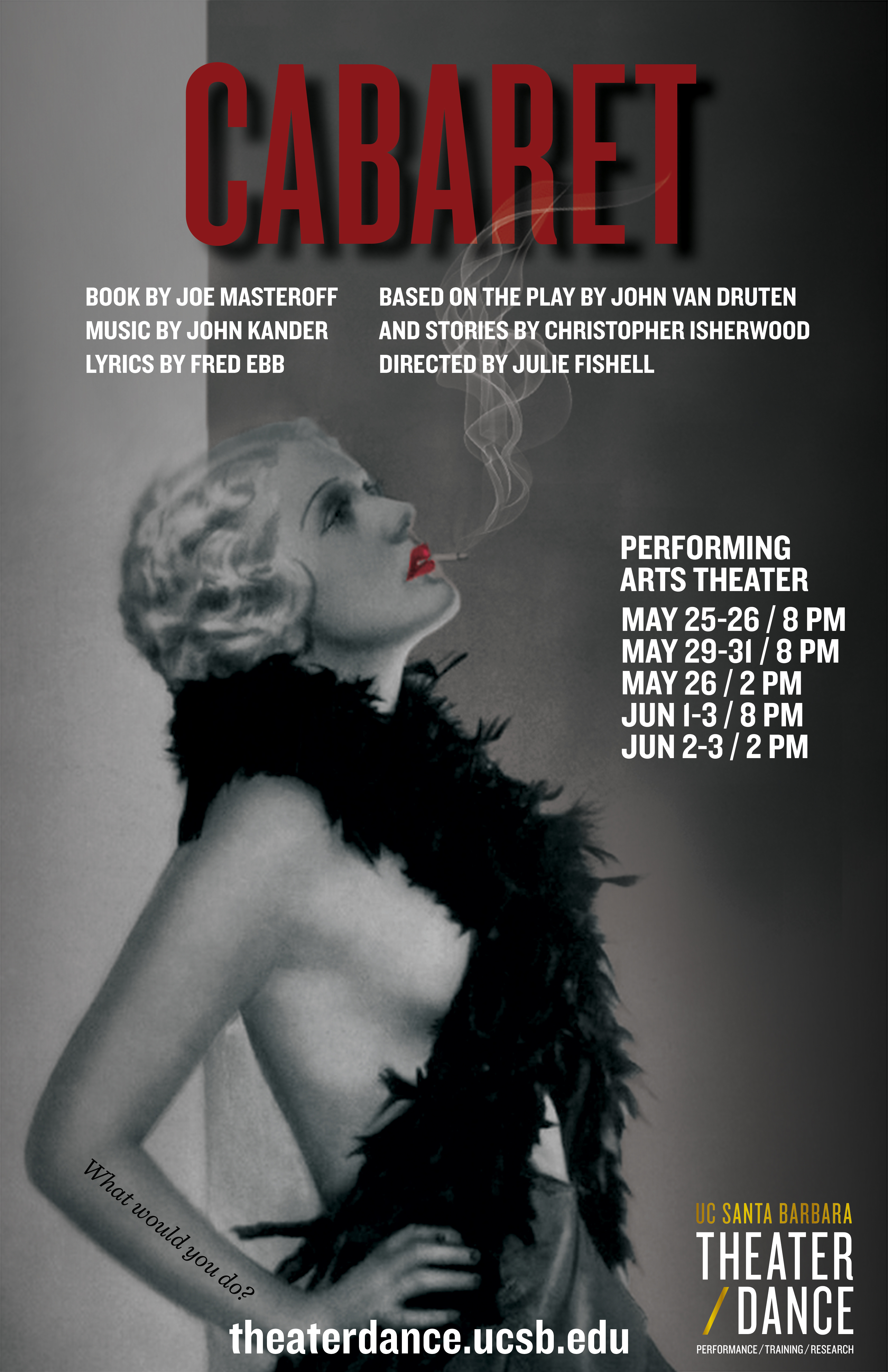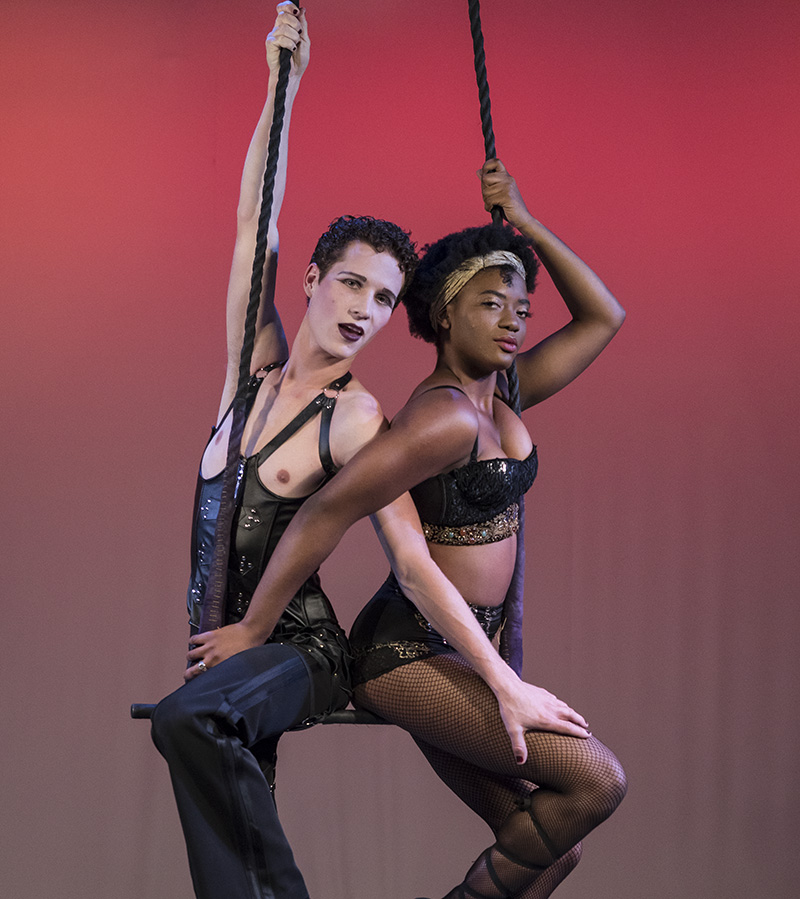 Kody Siemensma and Michelle Hester. Photo by David Bazemore
Cordelia Watson. Photo by David Bazemore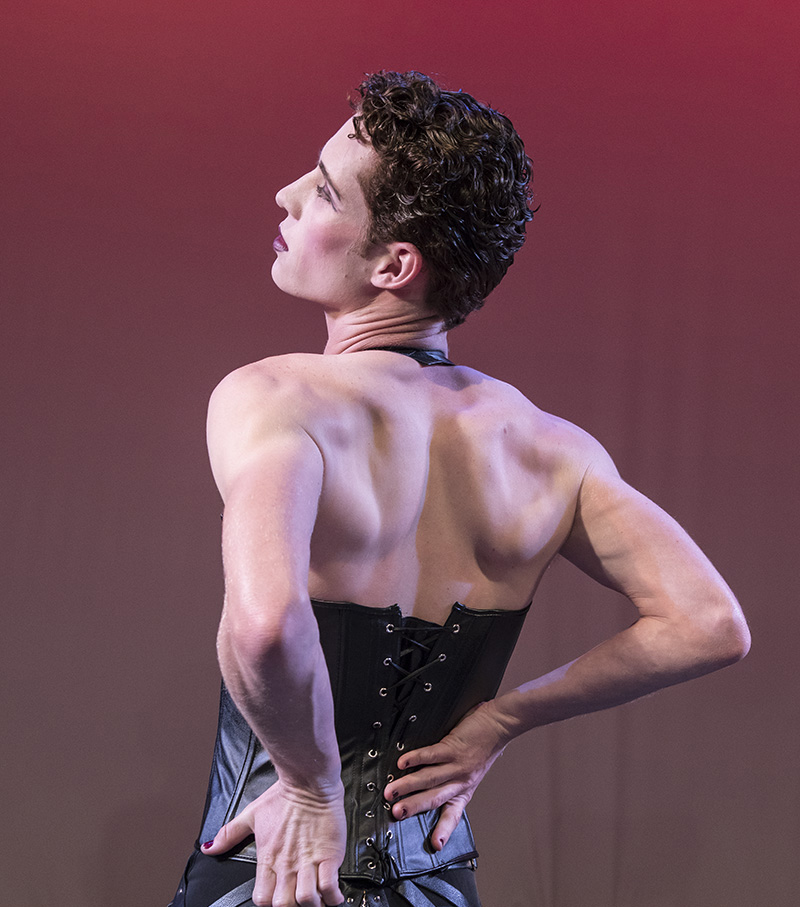 Kody Siemensma. Photo by David Bazemore
September 20, 2017 - 10:45am