Scipts and links for upcoming auditions 
The scripts and sides for auditions can be found on
GauchoSpace
. Please note that the scripts cannot be downloaded nor printed.  Please do not share these script with anyone. The sides, however, are available for download. 
Into The Beautiful North 
Written by Karen Zacarias
Directed by Shirley Jo Finney
PERFORMANCES:        May 24th – June 2nd, 2019
                                        Hatlen Theater
1ST REHEARSAL:              Monday, April 1st
REHEARSALS:
Typically 20-25 hours per week until tech rehearsals begin. This play will rehearse Monday – Friday between the hours of 6-11 until tech week. There will be some Friday afternoon rehearsals and occasional Saturdays. There are additional hours for techs and dress rehearsals leading to performances including two Friday mornings and weekends.
CREDIT:
3 units of THTR 49 and/or 149 will be given to cast members.
SCRIPTS:
The current draft of the script is now available on GauchoSpace.
New Works Lab
Featuring Original Plays by UCSB Students
Producing Director: Vickie Scott
Artistic Director: Fances Ya-Chu Cowhig
New Works Lab provides opportunities for original student plays with a year of developmental support, culminating in moderately produced workshop. We will be holding open auditions for all five plays. Information is listed below.
Performances:                                   May 9 – 19, 2019
                                                            Performing Arts Theater
General Auditions:                            Saturday, March 2nd, 2019
                                                            10am-3pm
                                                            TD-E 1101 (Studio Theater)
Call Backs:                                            Saturday, March 9th, 2018
                                                               10am-3pm
NOTE:  Call back information (protocols as well as specific location information) will be posted in the Production Office window on Monday, March 4th, 2019.
First Rehearsal:                                    Monday April 1, 2019
Rehearsals: All actors will be required to meet weekly with the entire Lab company on Tuesdays from 6-10pm. Most other rehearsals will take place Monday, Wednesday, Thursday, and Friday from 6-10pm except for technical rehearsals.
Credit: 2 units of THTR 49 or THTR 149 will be given to cast members.?
Scripts: The current drafts of the scripts are now available on GauchoSpace. 
Audition Requirements:
Please prepare a 1 - 2-minute contemporary monologue. Although this does not need to be memorized, it should be thoroughly prepared.
Any full time UCSB student is welcome and encouraged to audition. The audition sign-up list is posted inside the Production Office. Please sign up for ONE of the audition time-slots and arrive 10 minutes prior to your appointment to fill out paperwork outside of the audition room. Please be prepared to stay longer than your scheduled time-slot should your audition run long, or the process be behind schedule.
Play Specific Audition Information:
Radicals by Jason Bowe
Directed by Katherine Hamilton
Stage Manager: Iris Skeen
SYNOPSIS:
A mother and son attempt to reconcile unspoken differences brought to light by the son's participation in a clash between alt right and anti-fascist protesters, but the day's events threaten to tear them farther apart and alter their lives permanently
CASTING BREAKDOWN:
BRIAN. 17-18 Sharp, critical, transgressive, wants to make America great again.
MIKE. 40's former police officer. Now living off the grid.
MARKETING COPY:
In "Radicals" a mother and son confront the rift between them in the wake of a tragedy. As they approach reconciliation powerful forces threaten to tear them apart for good.
PLAYWRIGHT BIO:
Jason Bowe (pronouns he, him, his) is a senior BFA theater major. Recently he appeared in Lit Moon's "Nina Variations" and "Julius Caesar", and Santa Barbara's Christmas Revels. UCSB productions include work with New Works Lab, "Poster of the Cosmos", Naked Shakes' "King Lear",  and "A View From the Bridge" which earned him an Independent award. He likes to grow sunflowers and morning glories.
Rewrites by Audrey Sherev
Directed by Riya Sahasrabudhe
Stage Manager: Jack Rickman
SYNOPSIS:
Geeta, a passive and awkward assistant director, struggles to put on a medieval style play at her high school. When the director, Emily, spreads the rumor that their funding might be cut completely, Geeta retreats to her frequent daydreams for ideas to save the dying project. In her new version of the play, Geeta presents a dream world completely opposite from her reality: a world where a brave knight leads an entire army to victory and wins over the heart of the captured prince (played by the charming lead actor and Geeta's crush, Dylan, of course). As rehearsals go on and more problems arise, Geeta makes the play more extravagant and more ridiculous, pushing the limits of her theater troupe and her own sanity until her fantasies become reality...or until everything falls apart.
CASTING BREAKDOWN:
GEETA. Female, 16-18. Geeta is an awkward high schooler who retreats to her own fantasies and the life of the theater to be the person she can't quite articulate in reality: a confident, brave, and outgoing heroine. She does not believe that her real self is adequate, despite others seeing her as a kind, creative mind capable of accomplishing what she wants. She regresses as the play goes on to be obsessive about her fantasies to the point of trying to incorporate them in the play, since she feels that she cannot live without some form of escapism.
DYLAN. Male, 16-18. Dylan is Geeta's dream guy as the star actor of their theater program. He's confident, quick-witted, and amicable, although sometimes he can be a little intense when it comes to perfecting his art. Along with his affability, he especially seems to hold a soft spot for Geeta, despite that her awkward behavior towards him comes off as cold and uninterested.
EMILY. Female, 16-18. Emily is Geeta's long-time friend and student director of the school's production. She is level-headed, passionate, and demands the most from everyone, yet pertains her kindness (unless she gets pushed too far). She pertains many of the traits that Geeta wishes she had: confidence, sociability, and an easygoing attitude.
ACTOR 1. Any Gender, 16-18. One of the student actors in the high school's production. As one of the students, they try their best at acting but don't quite succeed, often to the annoyance of the other characters. In Geeta's fantasies they resume any extra roles and act as a force that removes/places props. This role involves quick movements on set and handling set pieces (ie flipforms).
ACTOR 2. Any Gender, 16-18. Another student actor. As one of the students, they are a mild-mannered actor who loves the theater just as much as the others. In Geeta's fantasies they resume any extra roles and act as a force that removes/places props. This role involves quick movements on set and handling set pieces (ie flipforms).
MARKETING COPY:
Amidst the fear of her theater production being cut from the school budget, Geeta retreats to her imagination for ideas to save the play and to construct her own fantasy world. In a whirlwind of medieval battles, theater nerds, and terrible Scottish accents, Rewrites is a comedy that explores the wonders (and dangers) of living in a dream world.
PLAYWRIGHT BIO:
Audrey Sherev's other works include Starman (Falcon Film Festival winner for Best Original Screenplay and Best Film). Audrey graduated from Scripps Ranch High School in 2018 and is currently pursuing a B.A. in English at UCSB.
The Family by Jennifer Johnson
Directed by Nicole Zahner
Stage Manager: Danni Glaser
SYNOPSIS:
The Family documents a group of siblings as they grow up in The Children of God cult, moving between past and present as they attempt to cope with their trauma. Their inability to confront their own memories prevents them from reconnecting with each other. The siblings continually mention the experiences of Isaac, the eldest sibling, as he struggles to break away from the group and move on. Isaac is put through various forms of abuse, and punished all the more for questioning his environment. It is not until the end of the play that the siblings face each other in the hopes to save Isaac from taking his life.
CASTING BREAKDOWN:
6 actors. Three male actors, three female actors. Ability to play the guitar preferred for male actors.
MARKETING COPY:
Based on the playwright's lived experience, The Family follows the true story of six siblings as they try to confront their past in The Children of God cult. They struggle to connect after being under a reign of restriction and denial. This play breaks the silence.
PLAYWRIGHT BIO:
Jennifer Johnson is a fourth year undergrad majoring in English and Theater. She has received recognition in the past for her work in sketch comedy and monologues, but has always been scared to write an actual play. Since being at UCSB, she has been involved primarily in the acting side of theatre, but is excited to take on a new challenge. Aside from writing, Jennifer enjoys dancing, playing board games, and working with children.
The Hedgehog's Dilemma by Harry Davis
Directed by Stefan James
Stage Manager: Donna Mo
SYNOPSIS:
A tragicomical dissection of modern relationships between young people. Two college students, Arthur and Madison, meet and have what was supposed to be a one-night stand. Their personal relationship evolves with their sexual relationship as they deal with infidelity, loneliness, sex addiction, until they come to the painful realization that sometimes braving loneliness is the best choice you can make.
CASTING BREAKDOWN:
ARTHUR. Male college student who got too much love from his mother. Satyr-like but loving.
MADDIE.  Female college student. Perfectionist. Emotionally protective of herself.
MARKETING COPY:
A group of hedgehogs seek to move close to one another to share heat during cold weather. They must remain apart, however, as they cannot avoid hurting one another with their sharp spines. Though they share the intention of a close reciprocal relationship, this may not occur, for reasons they cannot avoid.
PLAYWRIGHT BIO:
Harry Davis is a second year BFA Acting major and playwright for The Hedgehog's Dilemma. Previous works include the 2018 NWL play Soda Jerks. He also appeared in The Laramie Project and the one-act I didn't want a Mastodon at UCSB. He hopes you enjoy the show.
Shelf Life by Olivia Rose Nathan
Directed by Daniel Colohan
Assistant Director: Ezra Adkins
Stage Manager: Jesse Wall
SYNOPSIS:
The dream fills the room and there isn't enough oxygen for both of us; I try not to move and not to breathe.
In a world set a little into the future, or perhaps a world that is set much closer to the present day, GIRL and BOY discover what it truly means to not be able to move and breathe. In SHELF LIFE, the two are trapped in a stagnant and toxic relationship—a relationship where they are constantly holding their breath for the next pin to drop, and wondering what it would be like to let go… to finally let go of the breath they've been holding in the tight pockets of their cheeks… and fight to take up the oxygen left in the room. The two, who are living in southern California, are trapped in an advancing world of horror, doom, and destruction, which is just as apparent as their interpersonal problems, yet it seems no one is ready to make a move in fixing the inevitable. Through constantly shifting, changing moments (as opposed to scenes), their toxic relationship advances as the toxicity of the world advances, too. The play questions what the shelf life of ourselves, our relationships, our world, and our life are. What proof do we need to move— to breathe?
CASTING BREAKDOWN:
GIRL.  A woman in her twenties.
BOY. A man in his twenties.
The character breakdown is VERY simple. I need one male-identifying person and one female-identifying person. Any race, ethnicity, special ability, etc. is accepted. It would be most preferable to cast the male identifying role as a person whom comes from an immigrant family, in hopes of potentially developing that story line (which has already been vaguely implemented).
MARKETING COPY:
The dream fills the room and there isn't enough oxygen for both of us; I try not to move and not to breathe. In a world set a little into the future, or perhaps a world that is set much closer to the present day, GIRL and BOY discover what it truly means to not be able to move and breathe. Through constantly shifting, changing moments (as opposed to scenes), their toxic relationship advances along with the toxicity of the world.
PLAYWRIGHT BIO:
Olivia Rose Nathan (she/her) is a senior BFA Acting Major. Originally from Exeter, New Hampshire, she moved to California in 2015 to start school here at UCSB. When not practicing and teaching yoga or making lattes at your local Starbucks, she can be found around the Theatre and Dance department. She has been trained as an artist and enjoys many different mediums of art, particularly acting. Although she has been very active as an actor in the theatre department, she has never written a play before and is incredibly thankful for this opportunity to explore other areas of the theatre arts. She mainly writes poetry, monologues & personal narratives, and has worked to create her own one person show. Thank you to Frances Ya-Chu Cowhig, Daniel Stein, and all of Olivia's lovely friends, housemates, and classmates who helped her craft this story! It is a very personal story based off of true events.
The UCSB New Works Lab Production Team:
Producing Director:                                                               Vickie Scott
Artistic Director:                                                                     Frances Ya-Chu Cowhig
Acting/Directing Mentor:                                                        Daniel Stein
Publicity Mentor:                                                                    Una Mladenovic
Production Stage Manager:                                                   May Lo
DANCE AND THEATER MAJORS ONLY.
Reserve rooms from anywhere you have an internet connection. Don't see the room you're looking for? Scroll to the right! 
Not a major? Be sure to get written approval from Daniel Herrera (daniel12@ucsb.edu) prior to booking a room.
Please only reserve one hour per day per project.
If you no longer need a reservation, please delete it so it can be used by your colleagues.
Leave your contact information in the event of an emergency.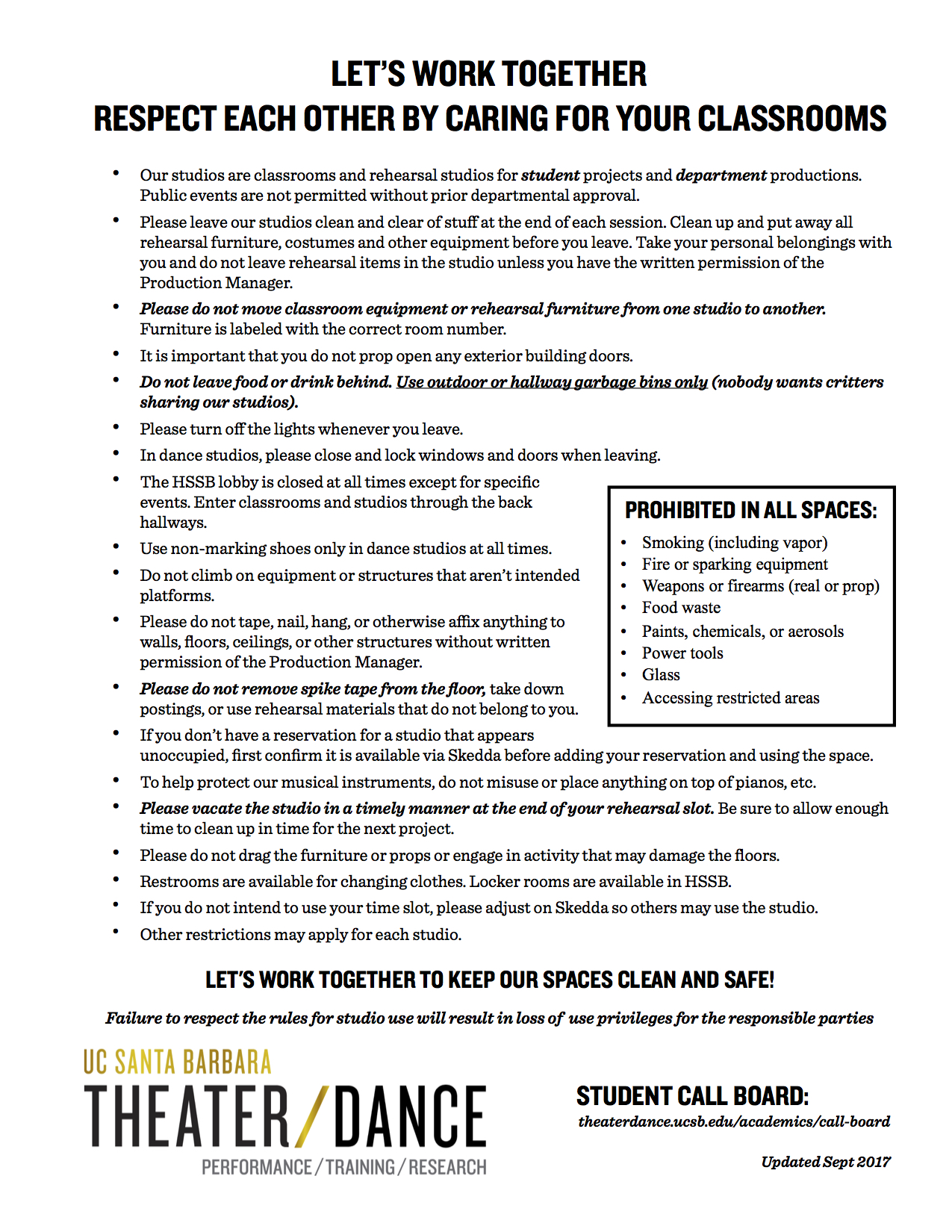 Looking to book a room further out than a week or on a re-occuring basis? Email dherrera@theaterdance.ucsb.edu.
Thank you to everyone who applied for this quarter's productions. Information on Winter Quarter will be posted in January.
POSITIONS AVAILABLE (DEPENDS ON THE PRODUCTION)
Light Board Operator
Sound Board Operator
Fly Crew
Deck/Props Crew
Followspot Operator
Wardrobe/Makeup Crew
HOW TO APPLY FOR RUN OR WARDROBE CREW:
Review the show calendars and course requirements to find a production that fits your schedule.
Email the Technical Director Jamie Birkett jbirkett@ucsb.edu if you are interested in any of the positions other than Wardrobe/Makeup Crew.  For Wardrobe/Makeup Crew, email the costume shop manager Denise Umland at denise.umland@ucsb.edu
We will schedule an appointment via email to give you to discuss and to potentially assign your add code.
IMPORTANT NOTES:
All crew positions are first-come, first-served. We will respond to emails in order that they are recieved on the day the positions are officially posted online.
All events listed on the calendars are required. It is not possible to partially participate in a production.
There are no opportunities to make up for an unexcused absence or lateness.
CALENDARS:
COURSE REQUIREMENTS:
Full Course Requirements (.pdf)
CONTACTS:
Want to be more involved with the Department? Want to see shows for free? Volunteer to be an usher for one of our shows!
WHAT: As an usher for the department's productions, you will be asked to hand out programs before the show, direct audience members to facilities during intermission, and organize the venue after the performance.
WHEN: Ushers should arrive 45 minutes PRIOR to curtain at the VENUE of the performance and check in with the house manager for instructions and a brief training session.
WEAR: Please arrive dressed tastefully in ALL BLACK.
WHY: For ushering, students may see the performance at no charge. It is possible (though not likely) that ushers will be asked to attend another performance if seating is very limited.
HOW: Use the buttons below to to sign up! You will be asked to enter your email address so that we can send you a reminder. Be advised that sign ups are on a first come, first served basis.
SIGN - UPS
Email Sean at sposh@ucsb.edu with your UMail address and the subject "Please add me to the Mailing List." The Mailing List will have the latest information regarding department events such as auditions, run/wardrobe crew, and special events.
Props/Furniture Rental Guidelines
Props and furniture are available for rental to the following:
Students currently enrolled in a class within the department
Recognized UCSB student organizations with a faculty advisor
Declared Majors/Minors within the department
Others as determined by the Technical Director
Rentals are available by appointment only. To make an appointment email Jaime Birkett jbirkett@ucsb.edu. A $50 deposit check is required for all rentals.
Props/Furniture Rental Guidelines