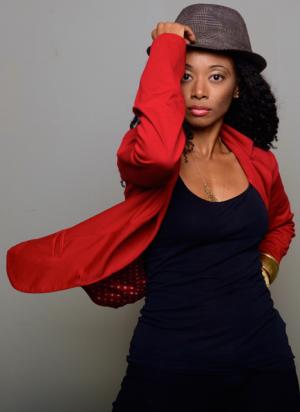 Specialization
:
The education of Street dances/social dances culture in America and it's connection to traditional cultural dances. Understanding how the connection has shaped and influenced popular culture and art in America. Dance majors, Theatre majors and non-majors.
Bio
:
Haynes is a renaissance artist, a Producer, Choreographer, Creative Director, Artistic Director (Theatre), Educator, and Writer.  Her company, RMHMovement, specializes in choreography, production, artistic direction, and creative branding for stage/TV/film. Passionate about going beyond the 5-6-7-8, Haynes' storyteller approach guides her artistic concepts and visions from creation until it is revealed in its finished work. Her work focuses on restoring the soul and groove to the commercial dance artist. She creates movement for dancers, singers, and actors; across many genres and skill levels. With over 20 years in the industry and performing arts, she has dedicated her talents to choreography, dance performance, dance instruction, mentoring the artistic growth of fellow artists, and more. Her versatility  as a performer/dancer and athlete, enables her to create with, and teach dance styles from Hip Hop, Funk, AFRO FUZION, partnering (various styles), African, fight choreography and more; bringing out the optimal performance quality of each individual performer; therefore bringing to life the overall vision of every project. Her work as a director, choreographer and producer can be seen in collaboration in projects and artists in the industry; including Terron Brooks, Shaunte Usual, Pamella Elaine, Dario, Wayne Brady, featured at the El Portal Theater in North Hollywood, CA, Lula Washington Dance Theatre, the Elephant Stages in Hollywood, CA and more.
​Originally from Washington, D.C./MD, Reegan's passion for storytelling and dance grew from a young age. She trained in many dance styles (Hip Hop, Jazz, Modern, African, Ballet). Her passion for dance and storytelling has woven a distinct pattern that has tied all her talents together, making perfectly clear the purpose that drives her: To Create Art, Educate, and Inspire People. She continued her education at Howard University, where she received her BFA in Theatre Arts Administration.
As an educator, for 19 years, she has had the privilege to share her knowledge to educate and empower dancers; through judging, workshops and masterclasses internationally. Additionally, as a resident choreographer and instructor at studios in Washington, D.C., MD, and CA; including Debbie Reynolds Legacy Studios in North Hollywood, CA. As well as guest masterclass instructor at the International Association of Blacks in Dance (IABD) Conference. More recently, the Lead Judge for the African Dance Competition LA (ADCLA), dance instructor and Lecturer at University of California at Santa Barbara (UCSB), and Dance Mission International in Uganda, Africa. Her AFRO FUZION Technique and dance style (first introduced in 2013) (African dance base with hip hop, modern and contemporary dance styles influences) brings a solid awareness of the cultural influences of dance, dancers' lines, placement, power and control. Thus, building a solid dance and performance foundation for commercial and concert dancers. This dance style empowers artists to go beyond industry trends, understanding the culture of African dance styles, and find the soul of their own dance.
As a performer she has been blessed to work with Anthony Thomas (Rhythm Nation 2010), Shakira, Disney, Corbin Bleu, Train, American Music Awards, NAACP Theatre Awards, Rammstein, Darrin's Dance Grooves 2, 20th Century Fox movie "The Comebacks", IPOD commercial campaigns, Sony Playstation, and more. 
Research
:
The influence and effects of traditional cultural dances on social/contemporary dance styles and popular culture.
Courses
:
Street Dance:
Dance 43A, 43B, 43C